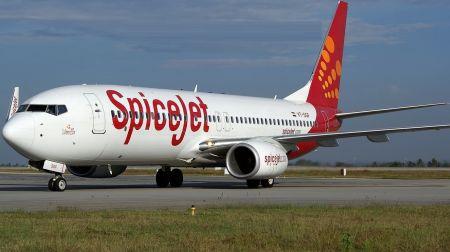 Shares of SpiceJet on Wednesday settled over 8 per cent lower after Mumbai Airport asked the budget carrier to immediately pay the pending dues of Rs 5 crore (Rs 50 million) and provide a bank guarantee of Rs 15 crore (Rs 150 million).
After falling 8.69 per cent to Rs 21 in intra-day trade at the BSE, shares of SpiceJet ended 8.26 per cent lower at Rs 21.10.
The company's market capitalisation fell by Rs 101.56 crore (Rs 1.01 billion) to Rs 1,129.44 crore (Rs 11.29 billion).
On the volume front, 120 lakh shares of the company changed hands at the BSE during the day.
Mumbai Airport had on Tuesday asked the budget carrier SpiceJet to immediately clear its dues amounting to Rs 5 crore and provide a bank guarantee of Rs 15 crore, an issue the airline claimed has been "sorted out".
Mumbai International Airport Limited (MIAL), the private airport operator, in its notice to SpiceJet, also said it will put the airline on cash-and carry mode of payment if it did not make the payment, sources had said.
SpiceJet owes around Rs 240 crore (Rs 2.40 billion) to the Airports Authority of India (AAI) for using its airports in the country.