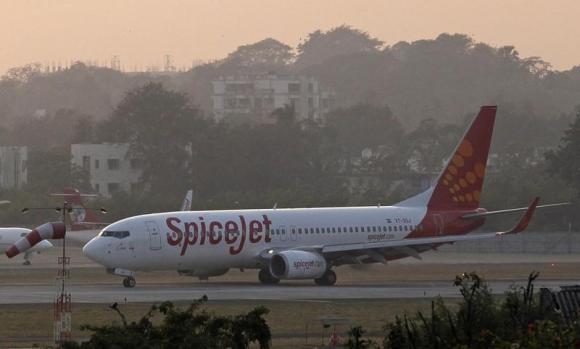 Shares of SpiceJet slumped almost 14 per cent on Friday amid reports that the Airports Authority of India (AAI) has decided to withdraw credit facility to the low-cost carrier, even as the company denied any such move.
The sharp plunge in its share price also came a day after the Union Civil Aviation Minister Gajapathy Raju said problems at SpiceJet was giving "heart attacks" at a time when the entire sector was going through turbulent weather.
After plunging 15.13 per cent to Rs 15.70 in intra-day trade, shares of SpiceJet finally ended at Rs 15.95, down 13.78 per cent from its previous close on the BSE.
Led by the sharp fall in the stock, the company's market value fell by Rs 136.23 crore to Rs 853.77 crore or Rs 8.53 billion.
Clarifying the media reports, Sanjiv Kapoor, the chief operating officer of the company in a tweet said, "Setting the record straight: SpiceJet is not on cash-and-carry with the AAI. News reports on this today are wrong."
In another tweet, he said, "Clarifying once more, as news media continue to report wrongly: SpiceJet is categorically not on cash and carry with the AAI."
Meanwhile, BSE has sought clarification from Spicejet on the same. Civil Aviation Minister Ashok Gajapathy Raju had yesterday said that the airline sector is running through a "lot of turbulent weather" with troubled SpiceJet seeming to give "us heart attacks".
"We are running through a lot of turbulent weather...not only the public sector, private sector is also crashing. (With) Kingfisher crashing and, right now, SpiceJet seems to be giving us heart attacks as far as airlines are concerned," Raju had said in New Delhi on Thursday.
The minister's comment came against the backdrop of industrialist Kalanithi Maran's budget carrier SpiceJet curtailing its operations by reducing both flights and fleet, citing fund crunch.
The airline has reported fifth straight quarter of net losses for the July-September period at Rs 310 crore which is down from Rs 559 crore or Rs 5.59 billion net loss during the corresponding period last year.