Performance is considered a major reason why Ravi Shankar Prasad might have had to leave telecom.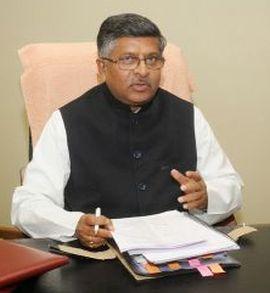 Confrontation with industry, especially with certain telecom companies, did damage to his report card.
With the reshuffle over, day two was about why a certain minister was moved out and another brought in.
Ravi Shankar Prasad, who's lost the high-profile telecom portfolio to Manoj Sinha, was one such.
Sources in the government and the sector point to six big reasons that could have prompted Prime Minister Narendra Modi to move Prasad out, while retaining him for information technology & electronics, additionally giving him heavyweight law & justice.
Caution against any controversy topped the list of reasons. Telecom had under the earlier government's rule been in the headlines for scams, court cases and loss to the exchequer due to mis-steps by policy makers.
This government wants to stay clear of any allegations or even a hint of corruption.
It could have decided against keeping any one minister with a portfolio such as telecom for long.
The second that people in the know cite is some recent policies, such as penalising operators for call drops, which went against the incumbents.
Telecom Regulatory Authority of India (Trai) came up with a call drop penalty regulation which sought to levy a penalty of Rs 1 a dropped call, not exceeding three calls a day, and Prasad backed it.
Subsequently, the Supreme Court snubbed the regulator on the matter, leaving Prasad on a weak footing.
Even the fact that his name came up in news reports related to phone tapping by a business group, though Prasad denied it, might have gone against the minister.
The PM has no patience for even any perceived sense of proximity with any business group, a source said.
Performance is considered a major reason why Prasad might have had to leave telecom.
He was often labelled a 'call drop minister', especially before the recent Bihar elections, for failing to finding a solution to mobile calls dropping in the middle of a conversation.
That put the PM in a spot. Digital India, one of the signature schemes of this government, to offer broadband connectivity to the rural hinterland, also did not deliver in spite of various claims.
In fact, Prasad is believed to have been pulled up by the PM at a recent performance appraisal meeting for not meeting the targets in a sector that had a place internationally.
Confrontation with industry, especially with certain telecom companies, did some damage to his report card as well.
UK-based Vodafone is a case in point.
The minister had refused to meet its India chief executive, Sunil Sood, after the latter had said "the (telecom) minister's and secretary's comments don't count as the view of the entire government".
Sood was reacting to the government move on penalising operators on poor call quality last year. Vodafone global chief Vittorio Colao came down to break the chill.
And, at an industry event, he's believed to have trained guns on Bharti Group chairman Sunil Mittal, leading to a situation where no industry captain wanted to share stage with him.
There are indications that foreign investors are losing appetite in the Indian telecom sector, something the PM will be worried about at a time when 'Make In India' is a favourite theme.
Finally, Prasad might have been replaced by Sinha because it is increasingly being felt that a high-profile minister is not required when telecom policies are likely to be driven by the PMO as many of the state elections draw closer and the next Lok Sabha polls are also not so far away.
The PM's principal secretary, Nripendra Misra, is a veteran telecom man, having served as both secretary, telecom, and chairman of Trai in the past.
Also, J S Deepak, the DoT secretary, is considered a competent bureaucrat. Deepak, who had demonstrated expertise in the earlier 3G spectrum auctions, is seen as somebody who would work well with Sinha, an IITian and a keen performer.
WHY THE EXIT?
PM exercises caution to prevent any controversy
Anti-incumbent tilt was showing in policies
Reports on proximity with certain businesses, though denied
Frequent call drops, failure on rural broadband connectivity
Confrontation with sector, impacting foreign investment
PMO may drive key telecom policies ahead of polls