Bharat Biotech started work on developing a vaccine against Zika way back in 2014, but the timing of its announcement has created a flutter in the market.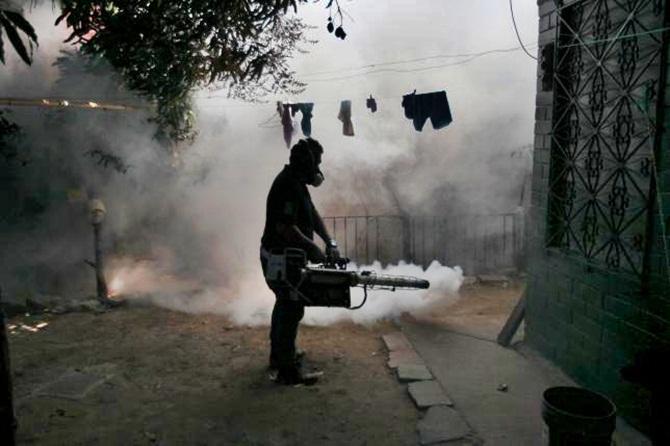 When Bharat Biotech recently announced that it was working on two vaccines to combat the Zika virus, little did its chairman and managing director, M Krishna Ella, know that it would raise questions on his intent.
The announcement is being seen as a trigger to raise the company's valuations, especially in the light of recent reports that all its three existing investors - ICICI Ventures, IFC and Subhkam Ventures - are planning to sell their shares.

These investors have stayed put for long and this announcement may provide an exit route to them.
"We have two Zika vaccines in development; one is recombinant (created by genetic engineering) and the other is inactivated, which will start pre-clinical testing in animals in two weeks," Ella had declared.
The announcement also came a day after French drug maker Sanofi said it had launched a project to develop a Zika vaccine and Japan's Takeda Pharmaceutical revealed it was investigating the possibilities of developing a vaccine to combat the dreaded virus.
Ella denies making this announcement for reasons of publicity and says he wants India to have the first-mover advantage in this field.

"I will not hype at the cost of people's health. We don't need any private equity. We have enough grants to carry on our research," he says.
ICICI Ventures and IFC hold 11 per cent and 24 per cent stake, respectively, in the company.

They'd invested in 2005. Their decision at that time had coincided with a major announcement by Bharat Biotech that it had not only developed a rotavirus vaccine but would also sell it at $1 a dose.

It took almost 10 years for that announcement to fructify: Prime Minister Narendra Modi formally launched the vaccine, Rotavac, in March last year.

The price point was also higher than what the company had promised.
Not a shot in the dark
Sector analysts would want to believe the company and give Ella the benefit of doubt.

Announcements can create a flutter in the stock market but private equity funds invest after due diligence and not just on the basis of news reports.

Moreover, if the announcement is not based on facts, the company's credibility will be hit hard, and there would be legal issues too.
For the existing investors, the first exit opportunity came after Sanofi-Aventis had acquired Hyderabad-based vaccine maker Shanta Biotech, in a $781-million deal in 2009, raising interest in Indian vaccine makers.
In 2010, there were reports about ICICI Venture planning to use this as an exit opportunity.
Bharat Biotech began work on the vaccine in 2014-end and filed for patent for both inactivate and recombinant versions under the name ZikaVac in July 2015.
But Ella says the actual idea to work on the virus began as early as 2006 when he experienced the effects of Chikungunya in a village in Tamil Nadu.
The Chikungunya vaccine will enter Phase 1 trials shortly.
"All the three diseases - Chikungunya, Japanese Encephalitis and Zika - are transmitted by the same Aeades mosquito. We started work on Chikungunya because it had to be done and not only because of market demand. Is it not appropriate to develop a vaccine against the deadly Zika virus?" he questions.
There have been allegations against the company for not following the standard procedure for importing the 'live' Zika virus.
An expert committee has been formed by the Indian Council of Medical Research to investigate if the company's research is scientifically worth pursuing.
Harish HV, partner at Grant Thornton, says, "Private equity exits are about aligning a buyer and a seller on facts. If it is based on fact, there is nothing wrong in announcing. The company would be valued more only if their statement is true."
Bharat Biotech was established in 1996 by Ella and his wife, Suchitra K Ella, with a vision to generate innovative technologies, along with a strong backbone of intellectual capital for the manufacturing of unique vaccines and bio-therapeutics, says the company website.
Fighting voiceless diseases
Ella, a scientist, spent 16 years in the US where he also taught at the Medical University of South Carolina-Charleston before returning to India.
The company's first project was a hepatitis B vaccine that saw $3.5 million investment in 1998.
He says his focus has always been on neglected diseases affecting the developing countries and which don't interest multinationals.
"Why will America bother about typhoid, which is related to unhygienic conditions?" he says.
The company claims to hold a portfolio of 50 patents in vaccine development and has delivered over three billion doses of vaccines to around 65 countries, which contribute most to its revenues.
It has in the pipeline nine vaccines that would likely be commercialised in the next three years.
The global vaccines market is expected to reach $57.8 billion by 2019 from $33.1 billion in 2014 at compounded annual growth of 11.8 per cent.
It has invested $150 million since its inception to build its portfolio of vaccines and lists three vaccines as its major achievements: Rotavac, Chikungunya (which is entering Ph I trials) and Typbar, a typhoid conjugate vaccine that has been commercialised.
It received a grant of $40 million for rotavirus vaccine development from the Gates Foundation.
Ella does not share the investment that has gone into Zika research, saying "it is negligible, not worth talking about."
The company invests 12 per cent of revenue in R&D, excluding the grants that go directly into clinical trials and do not show in the balance sheet.
If these are included, the investment would be about 35 per cent.
But, Bharat Biotech's struggles will not end with funds. The company has to convince the regulators and international bodies of its work.
Utkarsh Palnitkar, partner, head of advisory, head (life sciences practice), KPMG India, says India has a competitive advantage because of its continued focus on the area.
However, the immunisation programme is a complete tender-based business and a company needs to be very advanced in game theory in terms of planning its production.
This is because sometimes the projected demand for a vaccine when an epidemic breaks out is hugely overestimated and if the production is not aligned to market reality it could result in resources being squandered away in producing vaccines that may not find a market.
"The margins would come from participating in global tenders. International volumes are higher and the business is more predictable," he adds. For this, the company has to have in place regulatory approvals and its production facilities need to be certified.
However, irrespective of the support, the company believes it would pull through on its 'own' with its over 700-personnel.
The situation was the same when the company announced the rotavirus vaccine some 15 years ago. "People laughed at us then too. We proved them wrong, we will do it again," says Ella.
FROM VACCINE TO VACCINE
1998: Bharat Biotech launches Hepatitis B vaccine Revac-B+
1999: Expands facility to make 100 million doses of Revac-B annually from eight million doses to become the largest vaccine manufacturer in the world
2002: Becomes the first Indian company to receive two grants from the Bill & Melinda Gates Foundation to develop new vaccines against malaria and rotavirus
2005: Ties up with Cambridge-based Acambis for developing Japanese Encephalitis vaccine
2007: Launches BioHib, India's first indigenously developed and manufactured Haemophilus Influenza type B (Hib) vaccine
2010: Launches HNVAC, India's first cell culture-based H1N1 swine flu vaccine
2013: Launches Typabar TCV, world's 1st clinically proven conjugate Typhoid vaccine
2014: Launches Jenvac that protects against Japanese Encephalitis