By targeting the category between business and economy, Vistara hopes to gain a quick breakthrough. Will it find takers?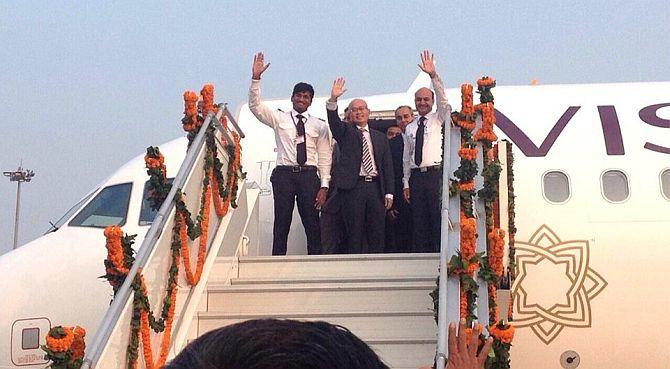 Image: Phee Teik Yeoh, CEO with First Officer Kushal Aggarwal and Captain Rahul Puri, the pilots who flew the first Vistara aircraft from Changi, Singapore to New Delhi. Photograph: Vistara/Facebook
Vistara, the airline started by Tata Sons and Singapore International Airlines which is slated to start operations from 9 January, is all set to change the rules of aviation in India.
So far, full-service carriers like Jet Airways and Air India have mostly stuck to a two-class configuration, economy and business, in their networks.
They have chosen to price their limited number of business class seats (12 to 28) three to five times higher than economy class seats.
The fatter margins help them combat the low-cost carriers with inexpensive economy fares.

Vistara has a different plan. It has drawn up a three-class configuration for the first time for India.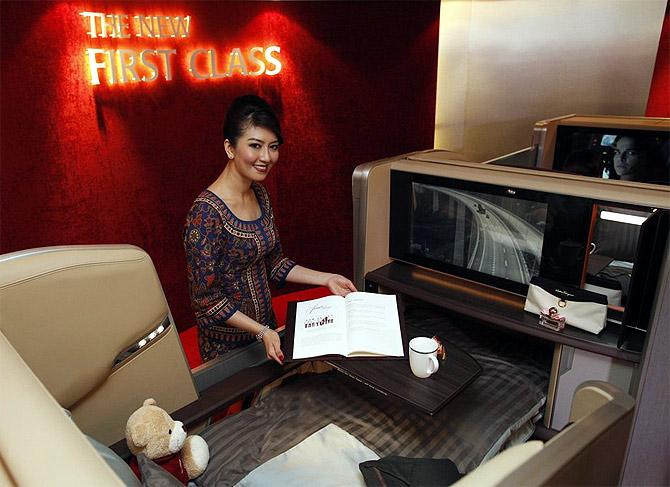 Image: A Singapore Airlines (SIA) stewardess poses at a first class cabin seat during the launch of their new generation of cabin products at Changi Airport in Singapore. Vistara which will start flying in January 2015 in India is a joint venture between Tata Sons and SIA. Photograph: Edgar Su/Reuters
Apart from business and economy, there is on offer a new premium economy class that will have 36 seats and will be priced at about twice the economy fare and half the business fare.
In the beginning of this year, Air India had tried to launch a premium economy class on a few domestic routes (Delhi-Guwahati, for instance) in the first two rows, with facilities such as check-ins from executive class counters and access to airport lounges, but the state-owned airline does not appear to be pushing this attempt at all.
It was left to Vistara to exploit this segment in an aggressive way. The question is: Is there a market in this category?

Phee Teik Yeoh, the CEO of Vistara, is convinced he has hit upon a prized market.
"I think we have hit a sweet spot. There are a lot of economy passengers who want to be treated differently, treasure personalised service and are ready to pay extra for that service," he point out.
Image: Vistara wants to introduce premium economy segment in India. Photograph: Courtesy, Vistara/Facebook
Yeoh argues that there are also passengers who have over the years moved from business to economy but are dissatisfied. It is this market that Vistara's premium economy class will cater to.
It may attract those who find business-class fares too high for a two-hour flight but are ready to pay more for extra space (see The Class War) and personalised service.
In fact, the premium economy category has been catching on as a new segment across the world but is limited to international flights.
For instance, nearly all top airlines, including Virgin, Cathay Pacific, KLM, Air France and Japan Airlines, have deployed some capacity to this segment.
However, only a few airlines like Air China and China South Eastern and Flybe in the United Kingdom have introduced it on their domestic routes.
Vistara has taken it to a new level by promising to make the new category the rule rather than the exception in its flights.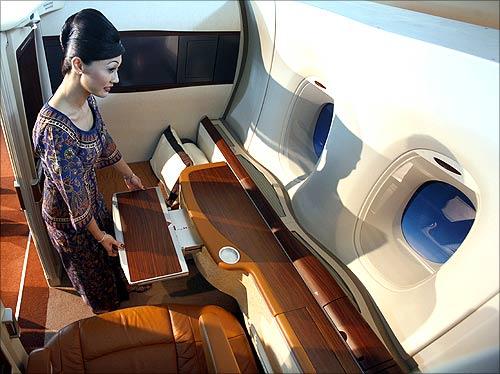 Image: A Singapore Airlines flight attendant demonstrates the features of the first class suite. Photograph: Vivek Prakash/Reuters
What passengers get is a 33- to 36-inch seat pitch, compared to 30 inches in economy, one inch more recline, 20 per cent more legroom, long armrests and individual coat hooks.
That is not all. Yeoh says that on ground they will get separate check-in counters and priority boarding, amongst other privileges.
Will the gamble work?
Kapil Kaul, CEO (South Asia) of the Centre for Asia Pacific Aviation, says: "The premium economy category in the domestic market is a first for India, but it remains to be seen how successful it turns out to be.
Pricing will be critical.
Addressing the right market segment and ensuring differentiation and value will hold the key (to its success)."

The numbers clearly suggest that Vistara has touched an untapped market.
For instance, airlines between Delhi and Mumbai, according to CAPA, offer 575,339 seats a month, but only about 33,192 are in business class— which is less than 6 per cent of the total capacity.
That is because except for Jet Airways and Air India, all others are low-cost carriers.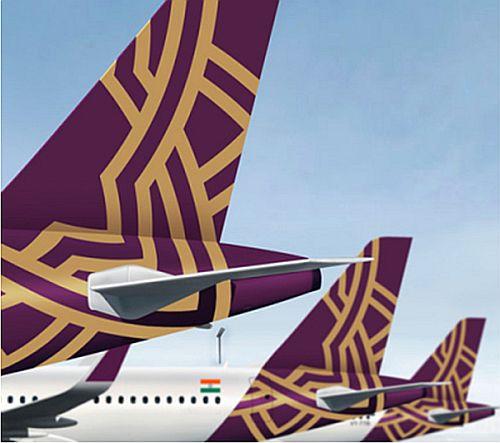 Image: Vistara is all set to take on competition from existing full service carriers like Jet Airways and Air India. Photograph: Courtesy, Vistara/Facebook
Yet, 70 per cent of those who travel between the two cities are corporate travellers, many of whom can afford to pay a little extra to get more personalised service, but not three to five times more for a business class ticket.
In the absence of an in-between category, these corporate travellers have no option but to fly on a low-cost carrier or book themselves on economy seats in a full-service carrier.
It is this large segment which can avail of Vistara's premium economy.

"Today, only heads of businesses, CEOs and directors travel business class because of the huge price difference that exists with the economy class.
With premium economy, companies can upgrade their senior and even middle management to utilise the services as it is not that expensive," says a senior executive of a low-cost carrier.
Also, with just three flights daily (one way) and 108 seats on offer, it is not unreasonable to assume that Vistara's premium economy class will be lapped up quickly.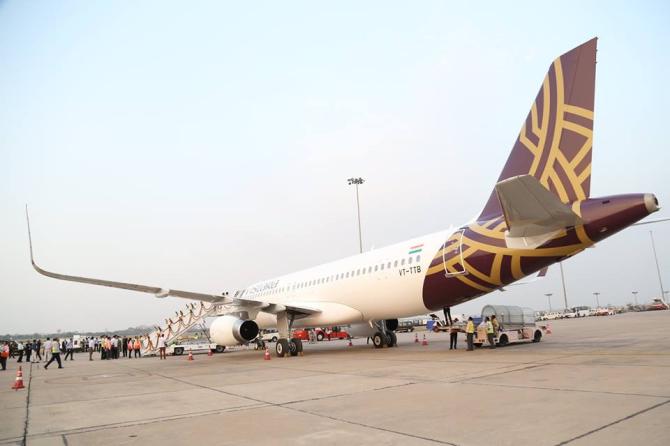 Image: Vistara will take to the skies on January 9, 2015. Photograph: Courtesy, Vistara/Facebook
The strategy will be advantageous for the new carrier.
By selling premium economy seats at nearly double the economy fares, Vistara would be able to get better overall margins on its flights than competitors.
For instance, Jet Airways offers in one configuration 138 economy seats where the fares are the lowest and 16 business seats.
Vistara, with the same seats, will offer 16 business seats and 102 economy seats — 36 will be kept for premium economy. If other things remain the same (both sell economy and business seats at the same fares), Vistara is bound to have higher overall margins than Jet Airways.

From Delhi-Mumbal to all India
Delhi and Mumbai, some might argue, is different from the rest of the country.
Can this model be replicated across the country? In other words, is there a market for premium economy on other sectors as well?
The answer lies in Vistara's careful route planning for the next four years.
The airline has submitted a plan in which a third of its capacity will be deployed on the Delhi-Mumbai route, and half in the four metros — Delhi, Mumbai, Bengaluru and Hyderabad.
Clearly, Vistara has chosen only those routes where the bulk of India's business class passengers travel —the top six metros account for over 85 per cent of the country's business travellers. And it is these markets where premium economy would thrive.

Does it have competition? The low-cost carriers have experimented with a two-class seat configuration to woo business travellers.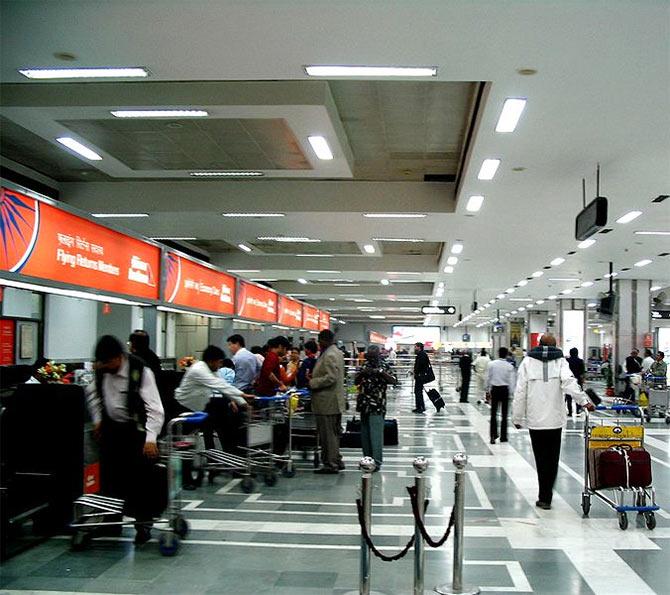 Image: Vistara officials say, the airline will cater to economy class fliers who want to have a premium travel experience. Photograph: Courtesy, Kprateek88/Wikimedia Commons
For instance, GoAir has experimented with Go Business which is priced three times that of its economy seats and offers more leg space (the middle seat is kept empty), allows 35 kg of baggage, exclusive check-ins and boarding and personalised transportation.
AirAsia also has on offer Premium Flexi which is more than double the economy fare and provides meals, higher baggage allowance, special check-in counters and quick boarding and luggage delivery.
But Mittu Chandilya, CEO of AirAsia India, says he is not pushing its sales as the airline has to first get the morning and evening slots at airports when most corporate travellers fly.
For low-cost carriers like AirAsia, the core business remains economy seats and their tryst with a premium class is just an add-on.
For Vistara, premium economy is the core and the chief differentiator of its strategy.
The class war: Vistara seats

BUSINESS CLASS
42" seat pitch
7" recline
Extendable leg rest
Footrest
Height adjustable headrest
Personal storage space
Plated meals
PREMIUM ECONOMY
33-36" pitch
4.5" seat recline
20 % more legroom
Winged headrests
Longer armrests
Individual coat hooks
Leather headrests
Tray service
ECONOMY
30" seat pitch
3.5" seat recline
Longer armrests
Leather upholstery
Winged headrests
Specially designed branded meal boxes