Three way split of AIADMK has slowed decision-making, prompting industry to look outside the state, says T E Narasimhan.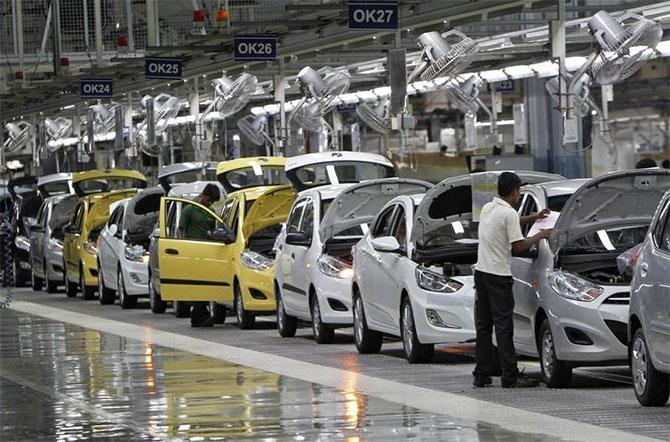 The political turmoil in Tamil Nadu since the death of J Jayalalithaa in December is starting to spill over to business: if losing Korean automobile maker Kia's Rs 10,000-crore investment to Andhra Pradesh wasn't bad enough, several prominent players in the state's knitwear hub of Tirupur are looking out to Odisha.
Tirupur's export business is worth Rs 35,000 crore annually, and if some of the factories in the region indeed move to Odisha, it would deal a big blow to Tamil Nadu's economy.
In the latest "ease of doing business" ranking based on a report released by the Department of Industrial Policy and Promotion along with the World Bank, Tamil Nadu has slipped six positions to the 18th spot in 2016.
The deterioration in the business environment has its roots in the aftermath of Jayalalithaa's death.
The tug of war between Jayalalithaa's close aide, V K Sasikala, and her family on the one side and Jayalalithaa loyalist, O Panneerselvam, on the other has split the ruling AIADMK into three factions, affecting the stability of the government and its decision making power.
The Rs 30,023-crore (Rs 300.23 billion) Murugappa group's executive chairman, A Vellayan, recently said doing business in the state was proving to be challenging because of the political uncertainty following Jayalalithaa's death.
"Things need to improve. Our (group's) percentage of business and profit from the state has come down in the last five years," he says.
Thus, the group is expanding its business in Karnataka, Andhra Pradesh, Gujarat and West Bengal, and has decided to give Tamil Nadu a miss. To be sure, Andhra Pradesh and Telegana are on top of the "ease of doing business" list.
For Edappadi K Palaniswami's government that took charge in February after a prolonged political drama, the state's business climate does not augur well.
Murugappa group is not the only one to look outside. Some of the other home-grown companies that have decided to invest elsewhere are: Ashok Leyland and MRF (in Gujarat), Saint Gobain (Rajasthan), Apollo Tyres, Hyundai Group's Kia Motors (Andhra Pradesh), among others.
Better incentives from other states and lower logistics costs count among the reasons for Tamil Nadu losing out on investments. Ford has decided to set up its second plant in Gujarat.
Ford has so far invested around Rs 4,500 crore (Rs 45 billion) in Tamil Nadu, providing employment to over 5,000 people in its factories in the state, but it said a plant in Gujarat made more sense logistically because nearly 60 per cent of its market lies in North and Western part of India.
Industry leaders say during Jayalalithaa's time, decisions, because they were too centralised, were taken quickly and there was stability in the leadership, but today things have slowed down.
Other states, meanwhile, are rolling out the red carpet for investors.
Odisha is luring Tirupur exporters with a generous scheme that includes sharing of employee cost if a plant employs more than 200 people and subsidy on electricity charges for three years.
Tirupur Exporters Association President Raja M Shanmugam says, "Tamil Nadu does not even have a textile policy, but other states have realised that we are a growing sector with potential to create jobs."
The spate of protests against Jallikattu ban and the floods have further shaken investor sentiment, says an industry consultant. Foreign investors are worried about committing investments to the state, he adds.
"Even for the existing companies that have made investment in the state, there is no certainty that they will get the benefits as per the MoUs signed with the state government, or the funds they are entitled to in the form of refunds will be made available to them. There is no stability in the way things are moving," says the consultant.
The CEO of an automobile company, which decided to expand outside Tamil Nadu, says that any OEM globally as part of its de-risking strategy will have different plants; however, more companies are now looking to invest outside the state because decision-making has slowed after Jayalalithaa's death.
Refuting these allegations, Tamil Nadu Industries Minister M C Sampath says Kia chose not to set up shop in Tamil Nadu because of its policy to not establish a new unit in the same state where Hyundai has a plant.
He says Han-Woo Park, CEO & president of KIA Motors, in a letter to the government, said: "I hope you kindly understand that we have not established our overseas plants in the same states where the plants of Hyundai Motor Company are located (such as in the United States of America, China, Europe)."
Sampath says while some companies are looking outside, many others have pledged further investments into the state. Among them, he says, is the Rs 4,000-crore (Rs 40 billion) project of PSA Peugeot Citroen.
Tamil Nadu Industries Secretary Atulya Misra told a newspaper that Hyundai plans to expand further into the state with an investment of Rs 5,000 crore (Rs 50 billion) and Yamaha Musical Instruments has given a commitment to invest Rs 500 crore (Rs 5 billion).
Xuzhou Construction Machinery Manufacturing Company, Vedanta, ITC and Freudenberg (Germany), CEAT Tyres and Motorola are also looking to invest in the state. Royal Enfield has plans to invest around Rs 800 crore (Rs 8 billion) in the state.
He says even Ford has plans to set up a Rs 1,300-crore global technology and business research centre at Sholinganallur, in Kancheepuram, which will generate employment for over 12,000 people.
P Ravichandran, chairman, CII-Tamil Nadu State Council, and president, Danfoss Industries, says measures to promote business such as strengthening single window clearance, expansion of metro rail, city road and funds for MSMEs will ensure steady trickle of investment in the state in the future.
For now, the state is turning its attention to ensuring speedy approval for investment commitments made in the past. In the Global Investors Meting in 2015, 98 MoUs worth Rs 242,000 crore (Rs 2,420 billion) were signed.
Of this, 61 projects worth Rs 62,738 crore (Rs 627.38 billion) are in various stages of implementation and these will generate 76,777 jobs.
Between May 2011, when the Jayalalithaa-led Government took charge and May 2017, the state had given 15,671 "consents to operate".
Palaniswami says the state government is closely watching all the projects and will take collaborative steps to ensure that they come on stream fast.