If money allocations, investment commitments are a sign of better things to come, the state can be optimistic. The spread's certainly better than in many other states, find Sanjay Jog & Anup Roy.
The eighth of a 11-part series looks at the state of affairs in Maharashtra.
Part 1: 'Andhra Pradesh is Gujarat of the East coast'
Part 2: Maharashtra remains India's richest state
Part 3: Madhya Pradesh: Quite a few scores, but many misses, too
Part 4: The real story behind Uttar Pradesh's development
Part 5: Jharkhand has ambitious plans to woo investors
Part 6: Rajasthan scores high on reviving economy, ease of doing biz
Part 7: Haryana's mission to become an investment hotspot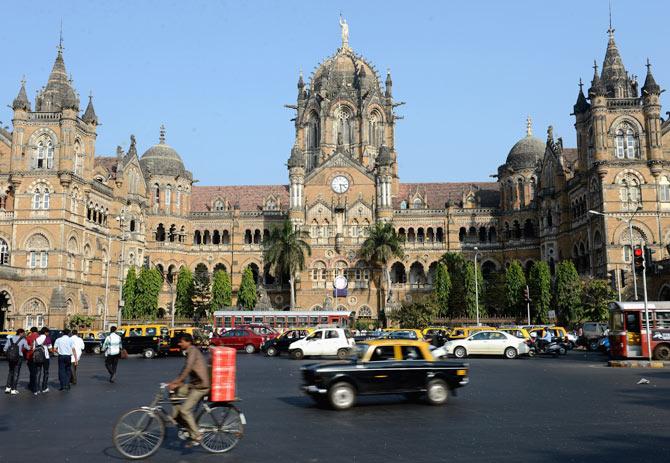 IMAGE: Maharashtra also boasts of the highest investment in infrastructure projects in the country. Photograph: Gareth Copley/Getty Images
The Mercedes-Benz management recently got a pleasant surprise when the Maharashtra government awarded the marquee German automobile maker a crucial environment clearance via an e-mail for its Pune factory, a green signal the company had for long been struggling.
Similarly, textile major Raymond got a letter of intent in record time for a Rs 1,500-crore (Rs 15 billion) investment proposal in the Vidarbha region.

And, the government handed over a letter of intent to information technology (IT) major Cognizant for proposed expansion in Pune, outsmarting other competing states.
The state's largest-yet investment proposal, of $5 billion from Taiwan-based Foxconn, is delayed but is confidently expected to stay here.

And, the Vedanta Group has said it wants to invest $10 billion to set up an LCD (liquid-crystal display) manufacturing unit in the near future.
These are some examples of how the government in Maharashtra, in a bid to retain its earlier standing as a favoured investment destination in an era of competitive federalism, is continuing to attract high-value investments. Helped in ample measure by tweaking a number of policies to make these more investor-friendly.
According to financial analysts, the total of investment promises, which are pending in Maharashtra, total about Rs 19 lakh crore, of which Rs 10 lakh crore is under implementation.
Maharashtra also boasts of the highest investment in infrastructure projects in the country.
Of the total of 5,210 infrastructure projects – both government, private sector and public-private partnership - Maharashtra alone houses 728, cornering Rs 4,23,070 crore (or 13 per cent) of the total valued projects in the country, according to the central government's department of economic affairs.
In comparison, industrially developed Gujarat is running 329 projects worth Rs 2,38,445 crore.
In recent times, the Maharashtra government has reduced the number of statutory approvals for industrial investments to 25, from 76.
In Mumbai, the number of building permissions issued by the BrihanMumbai Municipal Corporation has been cut to 58, from 119. All approvals are now being given within 60 days.
The government brought in a single-window clearance policy, which aims to provide various project approvals by bringing together necessary departments and state undertakings.
It has also issued a policy on retailing, a maritime policy and an electronics policy, with a slew of incentives.
To promote entrepreneurship among backward classes, an offer of 20 per cent plot quotas on priority and 30 per cent rebate in the cost of land.
"Make in India cannot be achieved unless we are successful in the Make in Maharashtra campaign," said state Industries Minister Subhash Desai, adding, "Maharashtra has always been an industrial leader and we are at the top in FDI (foreign direct investment) and other investments."
During the latest Make in India event, the state attracted investment proposals worth Rs 8 lakh crore, of the Rs 15 lakh crore received across the country.
The highest investment of Rs 4.06 lakh crore was for the industries sector, followed by Rs 2.3 lakh crore for energy, and Rs 1.1 lakh crore for housing.
According to CARE Ratings, several changes are taking place at the ground level in the areas of infrastructure, irrigation and social sector.
The government is working hard to accelerate growth and ensure business remains within the state and grows at a steady pace. This has sent positive feelers to industry.
The investment proposals are also distributed fairly. Not only the golden triangle of Mumbai, Pune and Nashik/Aurangabad but earmarked for backward regions in Vidarbha, Marathwada and north Maharashtra, too.
Besides, policies have been put in place to attract investors in diverse sectors such as agro-industry, irrigation, textiles, energy, infrastructure, retailing, tourism and IT.
Work has already begun on the Rs 90,000-crore (Rs 900 billion) Mumbai-Ahmedabad bullet train, the Rs 30,000-crore (Rs 300 billion) Mumbai-Nagpur super expressway, completion of 400 pending irrigation projects valued at Rs 80,000 crore (Rs 800 billion), the Jalyukta Shivar Abhiyan (water for all scheme) to make Maharashtra a drought-free state by 2019 and development of 21 airports.
Mumbai, the financial and commercial capital of India, has projects worth Rs 1 lakh crore in various stages of implementation.

They include an increase in the Metro rail network to 140 km, from 11.4 km now, at an earmarked cost of about Rs 50,000 crore (Rs 500 billion); the Rs 18,000-crore (Rs 180 billion) Mumbai Trans-Harbour Link connecting Mumbai and Navi Mumbai; the Rs 11,000-crore coastal road connecting south and north Mumbai; the Rs 18,000-crore Navi Mumbai international airport; the 63-km Churchgate-Virar elevated rail corridor, with investment of Rs 21,000 crore (Rs 210 billion), and the Rs 11,000 crore (Rs 110 billion) CST-Panvel corridor.
Chief Minister Devendra Fadnavis has given an aggressive deadline of 2019 for the completion of these capital-intensive projects.

Interestingly, the ruling partners - Bharatiya Janata Party and Shiv Sena - are engaged in a verbal duel on various contentious issues. Insiders agree an early consensus is required to get things going well.
Fadnavis is betting high on the launch of the 'Built in Mumbai' initiative, which aims to cater to the 50 per cent population living in slums and those aspiring for affordable housing.

State Chief Secretary Swadheen Kshatriya observes, "We know our strengths and weaknesses. Sanitation and affordable housing will make the Make in Mumbai initiative a success."
Director-general Arvind Pradhan of The Indian Merchants' Chamber says Maharashtra is going ahead in the reform process.

Though the intentions are admirable, the bureaucracy has to ensure ground-level delivery.
However, Pradhan also suggests that farmer suicides are a crucial challenge for the government, though, he adds, it is "working very hard" on this.
"We can see the results coming in the near future, as long as decisions are implemented in a time-bound manner," said Pradhan.
CARE Ratings says the state is adhering to all the fiscal parameters, despite pressures on revenue and spending commitments as on drought relief.
"The government has managed these challenges well. Hence, while it will be a task, the government appears to be up to this challenge," it adds.
According to business chamber Federation of Indian Chambers of Commerce & Industry, the state is expected to get robust central subventions because it is a primary destination for many large and prestigious projects, such as the Delhi-Mumbai industrial corridor, bullet trains and so on.
CII Maharashtra state Chairman Sunil Khanna said, "The government recently announced the launch of Maitri, a web-based investor helpline. The portal has been created to receive queries and investment queries from investors, and acts as a hand-holding platform. There are several other steps taken across sectors, for making the business environment conducive. We are hopeful the results will be visible soon."
On the negative side, PRS Legislative Research says the average annual agricultural growth decreased from 13.8 per cent in 2005-10, to 6.5 per cent in 2010-15.
Over the same period, growth in industry decreased from 13.3 per cent, to 9.3 per cent, and in the services sector, from 16.4 per cent, to 15.3 per cent.
As of 2014-15, 64 per cent of Maharashtra's economy was contributed by the services sector, followed by 26 per cent by industry and 10 per cent by agriculture.
However, the agricultural sector employed 51 per cent of the state's population, followed by services (40 per cent) and manufacturing (nine per cent), according to PRS.
The Reserve Bank of India's state finance report, issued this April, analyses data pertaining to 2013-14.
It says the state government's proportion of spending on education, sports, art and culture was 22 per cent, against the national average of 16.9 per cent.
However, it spent less than four per cent in medical and health, slightly lower than the national average.
In roads and bridges, Maharashtra's spending was less than the national average of 5.1 per cent.
In energy, Maharashtra's spending was near about five per cent of the total, against the national average of 6.7 per cent.
Radical improvement in these fields is unlikely in a short span, particularly when the state has expenditure constraints.
The total expenditure to gross state domestic product (GSDP) before the Fiscal Responsibility and Budgetary Management Act was 14 per cent, which the state has managed to bring down to about 12 per cent.
The state estimates GSDP for 2016-17 at Rs 2.2 lakh crore. It proposed proposed revenue deficit at 0.16 per cent of GSDP, fiscal deficit at 1.59 per cent of GSDP and primary deficit at 0.31 per cent of GSDP are better than most other states.