When it comes to key hands-on management positions, India Inc is still largely run by men.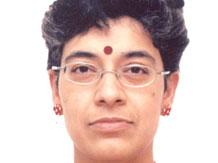 Ireena Vittal's resignation as independent director from the board of Axis Bank on grounds of a possible conflict of interest with the company her husband heads has raised a tangential issue of fiduciary responsibility and personal relationships in the debate over gender bias in corporate India.
A study of the 30 companies that comprise the Sensex highlights the bigger problem: that when it comes to key hands-on management positions, India Inc is still largely run by men.
The issue does not manifest itself at board level: 29 of the Sensex 30 duly meet - at least in letter - the Securities and Exchange Board of India's rule requiring companies to have one woman director on the board (the exception is NTPC where the term of its sole woman director lapsed four months ago and the ministry is yet to appoint a replacement).
But below board level, where there are no gender quotas, to fill only 11 of the Sensex companies had women in key management and leadership roles.
"This is not surprising," says Ashutosh Khanna, client-partner at HR consultancy Korn/Ferry, "Indian businesses see gender-diversity as a 'tick-box' item and not part of their strategic agenda." With its mix of manufacturing and services and old and new businesses, the Sensex companies provide a proxy for the state of gender diversity in Indian companies.
Unsurprisingly, the bulk (4) of companies with women in key management roles are in banking and finance, one sector that has been the most visible in hiring women over the past decade.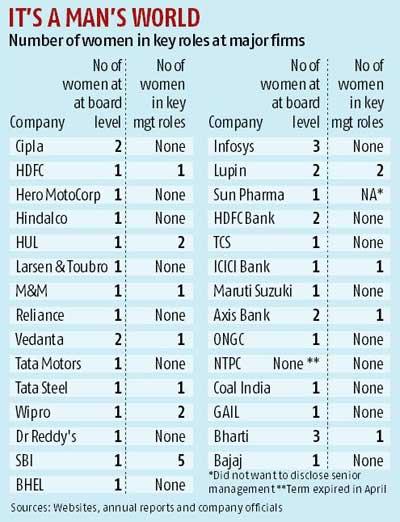 Pharmaceuticals, IT, telecom and fast-moving consumer goods comprise the other sectors (in fact, Ms Vittal is a board member of one other Sensex company, Wipro, which spans at least two of these sectors).
Of these, Hindustan Unilever and Wipro stand out. HUL has two women in the nine-member management committee, which oversees the day-to-day management of the company: Geetu Verma as Executive Director, Foods and Refreshment and Priya Nair, Executive Director, Home Care. Wipro also has two women in its 17-member executive team: Inderpreet Sahwney as Senior Vice President and General Council and Sangita Singh, Chief Executive, Healthcare and Life Sciences.
The unexpected inclusions in the list above are Mahindra & Mahindra, Tata Steel and Vedanta.
M&M counts Anita Arjundas, CEO, Mahindra Life Spaces, Tata Steel has Deepti Talwar, General Counsel, and Vedanta has Roma Balwani, President, Group Communications, Sustainability & CSR.
They contrast with the 12 other engineering companies in the Sensex with all-male leadership teams. The reason for this gender imbalance may be partly the result of a lack of availability of women in an industry that is traditionally considered a "male" activity.
As Khanna of Korn/Ferry points out, "Many of the senior managers must be in their mid-forties or fifties now, which means they started working about 25 or 30 years ago. At that time, there were very few women in engineering."
Conversely, ITC stands out as a company that bucks the gender hiring trend in businesses that now employ larger number of women. Excluding tobacco, ITC is also in Fast Moving Consumer Goods, hotels and apparel businesses.
But it has no women in its corporate management committees or in its 11 divisional management committees (only its IT business is headed by a woman but it is negligible in size).
It is, however, one of the few Sensex companies to explicitly mention gender issues in its code of conduct, saying it "seeks to enhance equal opportunities for men and women."
Though gender diversity is manifestly a government policy, the state-owned companies in the Sensex remain male oriented.
State Bank of India is a notable exception where, apart from the Chairman Arundhati Bhattacharya, five out of the 42 CXOs are women, including the CFO and the COO.
The private banking and financial services companies in the Sensex provide an interesting anomaly despite the relatively high percentage of women employees they hire.
Although they are headed by women there are almost no women in other key management roles. In Axis Bank, for instance, MD and CEO Shikha Sharma is the only woman in the senior management team.
Likewise with ICICI Bank, where Chanda Kochhar, MD and CEO is the only woman in the management team; the three other executive directors are men.
HDFC Bank has two women as board members: its chairman Shyamala Gopinath and Renu Karnad but its 2014-15 Annual Report lists no women in key managerial positions or the senior management team.
The predominance of men at senior management levels in corporate India may change as more professionally qualified women enter the workforce. But HR and governance experts say the process will be slow, especially in the traditional manufacturing sector.
"As you can see from companies that have fulfilled their board quotas by appointing women relatives, mandated diversity is seen as frivolous, so senior managements have not really internalised the issue of gender diversity in the workplace," says Shriram Subramanian, Founder and MD of InGovern Research Services.
For instance, only a handful of companies mention gender diversity as explicit agendas in their annual reports or set specific hiring targets for women and only six go beyond the Sebi mandate and include more than one woman director on its boards: Cipla (2), Vedanta (2), Infosys (3), HDFC Bank (2), Axis Bank (2) and Bharti (3).