When Japan's Yokohama Rubber announced the acquisition of Alliance Tire a few days back, it was the end of the long and successful road.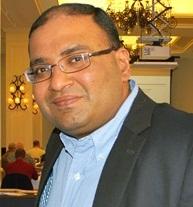 What would you do when you have to give up a business you had built over a decade?
In 2006, Yogesh Mahansaria and his father, Ashok, were ousted from Balkrishna Industries (BKT), a maker of two-wheeler tyres that later diversified into farm tyres under Yogesh and turned around.
Yogesh padded up for a second innings, and was clear about two things.
He wanted to build a global business and in the off-highway tyres sector - a business in which he saw good potential.

Executives at private equity (PE) firm Warburg Pincus were aware of Mahansaria's work at the BKT and were willing to back him.
Off-highway - or off the road - tyres are those used for vehicles not usually used for transport, such as tractors and trailers.
An opportunity came his way when Alliance Tire, an Israel-based maker of off-highway tyres, was put on the block.

Alliance was a role model and its business similar to what Mahansaria had developed for the BKT.

It exported tyres to Europe and the US, but unlike India, manufacturing in Israel was no longer low-cost.
The Israeli company had reported a loss of $7 million in 2006, while its promoter, Fishman Holdings, reportedly lost $400 million after the Turkish lira plunged 20 per cent that year.
Ten years later, Japan's Yokohama Rubber bought Alliance Tire for $1.18 billion.
Alliance made a lot of sense: it made tyres for agriculture, construction, forestry segments for the $9-billion market of off-highway tyres, which includes verticals such as ports, aviation and mining tyres.
Alliance provided instant access to products, brands and markets - a platform which could be grown.

After their initial bid for Alliance was seen as low and rejected in mid-2006, Warburg and Mahansaria bid again and won it for $48 million, plus $100 million of its debt.

The duo shifted production of low-margin, high-volume products to new plants in India, while the Israel plant focused on high-margin products.
Even as Alliance was being nursed back to health, another opportunity came knocking on its doors in 2008: GPX International, a manufacturer of off-highway tyres, was in trouble after the US authorities had slapped a 44 per cent anti-dumping duty on imports from its Chinese plant.
The CEO of GPX, who had worked for Warburg Pincus, approached the PE firm.
Mahansaria was familiar with GPX and its promoters, and the deal would give Alliance a strong presence in the US in forestry and construction segments.
Yet, he was not sure about the deal when the world was hit by the 2008 financial crisis.
Warburg pushed for the deal as it saw a good opportunity.
In October 2009, GPX filed for Chapter 11, with Alliance Tire as the stalking-horse bidder for its US operations. (A stalking-horse bidder is an initial bid on a bankrupt company's assets from an interested buyer chosen by the company itself.)
The bankruptcy court asked GPX to get competitive bids. Titan International, the largest manufacturer of off-highway tyres in the US, also bid.

Interestingly, Titan's CEO "Morry" Taylor Jr - a former Republican Presidential candidate lobbying for anti-dumping duties against GPX - had led to its failure.
Thanks to some quick on-the-feet decision-making by Mahansaria and alignment with Warburg, Alliance won GPX for $54 million - Taylor thought Alliance overpaid for the asset. Mahansaria was happy as he bought platforms and created the Alliance Tire Group, which by 2011 had started to come together.
In April 2013, KKR bought out Warburg Pincus' 80 per cent in Alliance Tire Group and 10 per cent from the Mahansaria family for an estimated equity value of $522 million and an enterprise value of $650 million, which included around $125 million of debt on Alliance Tire's balance sheet.
The deal value, though, was never disclosed.
When contacted, KKR, Warburg, and Mahansaria declined to comment.
Last week, Japan's Yokohama Rubber bought Alliance Tire for $1.18 million - 90 per cent from KKR and 10 per cent from the Mahansaria family - to expand its commercial tyres business.
Alliance had operating profits of $95 million on sales of $529 million last year.
CREATING VALUE
When Japan's Yokohama Rubber announced the acquisition of Alliance Tire a few days back, it was the end of the long and successful road.
1988: Balakrishna Industries (BKT) starts making two-wheeler tyres
1995: Diversifies into off-highway tyres for exports and turns around
2000: Yogesh Mahansaria appointed ED, after CEO of tyre biz Pramod Poddar dies in an air crash
2006: Following family dispute, Yogesh Mahansaria and his father exit BKT, had less than 6% stake
2007: Mahansaria and Warburg Pincus buy Alliance Tire, an Israeli company making off-highway tyres
2008: Alliance Tire sets up new plant in Tamil Nadu, second plant came up at Dahej
2009: Alliance Tire acquires GPX, gives it access to forestry and construction segments in the US
2013: KKR buys 80% in Alliance from Warbug, 10% from Mahansaria for an estimated $522 million
2016: Yokohama buys Alliance Tire for $1.18 billion to expand its commercial tyres business