Armed with pricey degrees from colleges overseas, young Indians are heading back home in search for greener pastures, finds Anjuli Bhargava.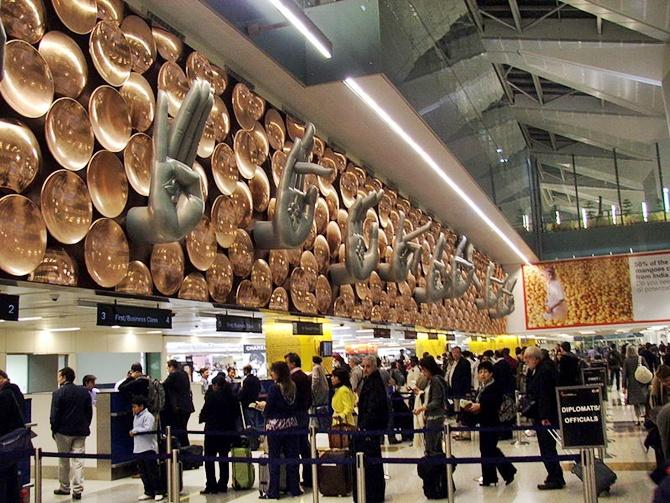 Image: India is where the action is today. Photograph, courtesy: Krokodyl/ Wikimedia Commons
They are 20-something, have spent four to five years overseas - mostly in the United States and the UK- studying and are now back home with fancy degrees in hand.
Some of them were earning good money, career paths in the land of opportunities looked set and the future certain.
What then brings these young adults with promising careers ahead of them back to India - to what will certainly be a struggle even if they are from the privileged set?
How do they justify the substantial amount spent on their degrees by their parents and do they feel it was worth it?
Mumbai-based education consultant Viral Doshi estimates that unlike 15 years ago when only a handful of students who went overseas to study returned, now almost half of them come back after completing their education.
He says visa troubles, lack of attractive opportunities and in some cases plain homesickness are among the reasons, but also because India is where the action is today.
Neeraj Batra, chairman of Oncourse, the largest private consultancy which has sent over 900 children overseas for studies over the past four years, says that a large percentage of students he knows of are coming back and a lot of it has to do with the lack of opportunities overseas and the economic slowdown.
"I'd say it is primarily because India is the best option in the present scenario when good jobs overseas are hard to come by."
India in fact presents more options for them, including a thriving start-up culture. Batra says this is like a reverse brain drain. India, as he sees it, only stands to gain.
Rich Indians also return to take charge of family businesses.
While this is not entirely new, Poshak Agrawal, founder of Gurgaon-based Athena Education, says that in many cases "it's their endeavour to 'professionalise' the businesses from family-owned to process-driven establishments." They apply what they have learnt to help the family business thrive.
The entrepreneurial or start-up bug is another big factor.
Agrawal, who left India to study at Princeton University, says that he always wanted to go the entrepreneurial way and India was where his heart lay, although his degree at Princeton was "priceless".
Along with his business partner - a classmate from Princeton - Agrawal now heads a consultancy firm that helps Indian students go abroad for higher studies.
"I have an investment banker friend from Princeton who now works in New York in high finance. He once said India is probably like New York in the early 1900s: a land of problems which create opportunities," he says.
Priceless experience
Almost everyone agrees that this reverse migration is not to imply that studying abroad is not worth it.
It opens their minds, gives them a holistic education (that the Indian system doesn't), a solid network to fall back on and exposes them to ideas their Indian education could never have given.
"A degree is just a stamp but an experience at Princeton is priceless," says Shikha Uberoi, who is soon to launch Indi.com in India, a brand challenge platform.
Uberoi - who has played tennis representing India at a professional level - did her freshman year at Princeton in 2000-01, but took a decade off to play tennis.
She finally finished her degree in 2013. She was always determined to head back to Mumbai and create social impact with media.
"I wasn't forced into replacing my passions and ideas with a high paying job, so I consider myself very privileged. I get to do what I love and I love what I do," she says.
Chiraayu Sethi echoes Uberoi's sentiment. After finishing his schooling at Mumbai's Dhirubhai Ambani School, Sethi earned his degree in civil engineering from Carnegie Mellon in 2011 (with a minor in photography). Sethi says that the education he received was phenomenal, molding him into what he is today.
Sethi has friends who are studying engineering here in India and he can see the difference. "Here you are limited to learning what you need to be a good engineer", whereas he got a taste of a bit of everything while studying at Carnegie Mellon, be it history or photography.
But never once did he consider working or living outside the country.
"My plan was to come back and set up my own enterprise," he says. He knows this will be more challenging but he also knows it might be the best time for him to do it.
Home grown Indian start-ups are going abroad and he thinks it's too exciting an opportunity to miss.
Moreover, he'd rather set up his venture in his own environment where he's more comfortable, creating employment that accrues to his country.
There is another set of students which is back partly disillusioned with the life the West offers - riddled with money, materialism and mortgages.
Shantanu Garg, a Doon School alumnus who dropped out of Delhi's Shriram College for Commerce after a year and headed to Claremont Mckenna College in Los Angeles, got into economic consulting after completing his degree.
He worked with a boutique firm, Cornerstone Research, for a while but soon realised that while he was earning good money, he wasn't particularly satisfied with his life there.
"I wasn't particularly excited by the work I was doing and I could see myself getting sucked into a life of comfort."
Culturally, too, Los Angeles lacked the political environment he'd grown accustomed to love in India. Garg extricated himself and came right back home.
He's now toying between taking the civil services examination and sitting for law entrance.
Either way, he couldn't see himself leading a life of "quiet desperation"- quoting Henry David Thoreau.
A search for something more is what brought back Akshay Saxena as well who worked with a large consultancy firm in the US after graduating from Harvard University.
He also realised he wanted to give back both to his institute (IIT, Mumbai) and his country.
After returning to India in 2009-10, Saxena went on to set up Avanti Fellows, a not-for-profit initiative that helps children from less privileged backgrounds make it into engineering colleges like IIT, a path many youngsters are looking to follow.
His and other similar success stories make the risk worth taking.