In his book, former governor Subbarao says Chidambaram, Pranab were piqued by his tight rate policy; refused extension to two deputies.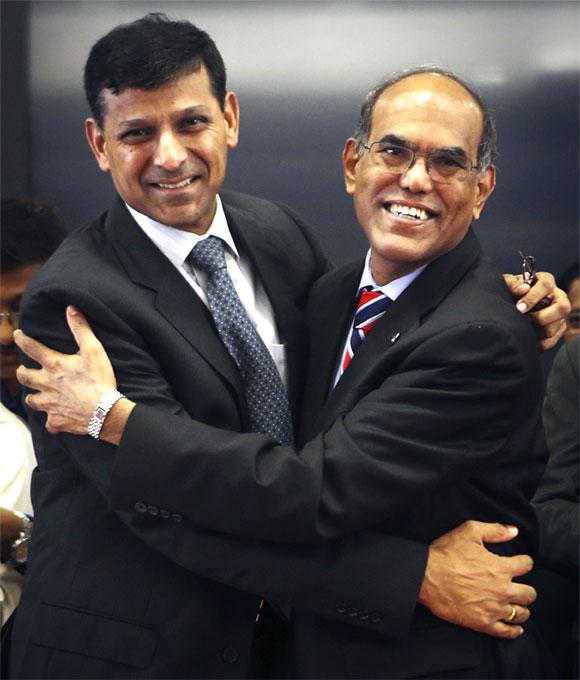 IMAGE: Raghuram Rajan (L), with Duvvuri Subbarao. Photograph: Danish Siddiqui/Reuters
Conventional wisdom says while the government and the Reserve Bank of India (RBI) agree to disagree on certain issues, it is the monetary policy that has the final seal of approval of both parties.
But, as a "tell-all" book by former RBI Governor Duvvuri Subbarao says, the reality is quite different.

Subbarao steered the central bank at a difficult period between September 2008 and 2013.
The surprisingly frank book - Who Moved My Interest Rate – Leading the Reserve Bank of India through Five Turbulent Years (to be released on Friday), is replete with stories of how finance ministers during the time he was in charge of the central bank - P Chidambaram and Pranab Mukherjee - often made public their differences with the RBI on decisions on the interest rate.
While the ministers wanted to see RBI lower rates, Subbarao maintained a hawkish stance to contain inflation.
The resultant background clashes, which most notably spilled out in the public when Chidambaram threatened to "walk alone" to "face the challenge of growth" if the central bank did not cooperate, created its fair share of controversy.
Referring to a column by Chidambaram in The Indian Express where he said the government and RBI were on the same page in eight out of 10 monetary policy statements or actions, Subbarao says that may be the minister's experience, but certainly not his.
"I found that all through my tenure, the government was distinctly uncomfortable with the RBI raising interest rates and seemed convinced that monetary policy was choking growth".
The lingering hurt has perhaps prompted the former governor to say that "the logic of why the Reserve Bank should compromise its judgement so as to become a cheerleader for the economy never appealed to me".
He recounts an incident when soon after a monetary policy statement in which he had "refused to fall in line," Chidambaram arrived at a function in Mexico where both of them had gone for a G20 meeting, greeted everyone, but pointedly ignored him all through the evening, leaving him "with an uncomfortable feeling".
"I have been asked several times if there was pressure from the government on setting interest rates. There certainly was, although the precise psychological mechanics of pressure would vary depending on the context, setting and personalities," Subbarao writes in his book.
"Both Chidambaram and Pranab Mukherjee were piqued by the Reserve Bank's tight interest rate policy on the ground that high interest rates were inhibiting investment and hurting growth."
The fight for autonomy of the central bank had its own steep cost.
Subbarao says he saw two of his deputies leave RBI without getting an extension, despite being highly recommended by the governor himself, which according to custom and law, should have been accepted by the finance minister.
Mukherjee, as finance minister, did not give a second term to Usha Thorat after October 2010 and in the case of Subir Gokarn, the selection list was reconstituted to bring him down from the number one choice to eventually let him go, as Chidambaram wanted to bring "fresh thinking" into the RBI.
Subbarao has even hinted that his own reappointment in 2011 was not pursued eagerly by then finance minister Mukherjee, but he got it nevertheless because of the intervention of then Prime Minister Manmohan Singh.
Subbarao says he got to know about his own reappointment watching flashes on television channels that picked up the development from the website of the Prime Minister's Office and not from the finance ministry's.
Subbarao did not even get a call from the finance ministry; it was the PM's principal secretary T K A Nair, who called him to confirm his reappointment.
But the deputy governors did not have such luck. "Usha became a part of the price we had to pay for asserting the autonomy of the Reserve Bank of India," Subbarao writes in the book.
Gokarn's departure was even more dramatic. Subbarao repeatedly reminded Chidambaram to grant a two-year extension to Gokarn, but Chidambaram was "clearly disinclined to accede".
According to the rules framed by Chidambaram himself, Gokarn was eligible for reappointment as the question of appointing anyone else would have arisen had the governor not made the recommendation.
But, Chidambaram insisted on a selection committee, which agreed on a panel of three candidates with Gokarn at the top of the list.
However, a couple of days later, P K Misra, secretary of the department of personnel, called Subbarao to say the minutes had to be redrafted since the rules did not allow for the committee to rank candidates in order of preference.
Subbarao was surprised, as the "minder of rules", Misra, did not say so when the meeting first happened. Subbarao refused to redraft and said the rules should be written down and the panel should be reconvened.
Misra did not get back. Subbarao waited till 31 December, 2012 - the eleventh hour - hoping the government would reappoint Gokarn.
But, that was not to be. In fact, the book says Chidambaram wanted to have a say on RBI affairs close on the heels of Subbarao's appointment.
In mid-October 2008, Chidambaram had constituted a committee on liquidity management, with finance secretary Arun Ramanathan as the chairman.
"I was annoyed and upset by this decision," Subbarao writes.
"Chidambaram had clearly overstepped into RBI turf as liquidity management is a quintessential central bank function. Not only did he not consult me, but he had not even informed me of this before the notification was issued."
While Chidambaram wanted to see RBI lower its policy rates in acknowledgment of the government's efforts in fiscal consolidation, RBI wanted solid proof of that actually happening.
This led to a fissure between the two, even as Subbarao says he had "high regard for Chidambaram's competence," and that "if there was one person who could deliver on the demanding fiscal deficit target in an admittedly complex and challenging political scenario, it was he."
In his tenure as RBI chief, Subbarao also objected to Mukherjee's creation of a super regulator that would mediate between regulatory battles.
The RBI governor succeeded in diluting some of the provisions. However, the government's interference in RBI workings was not limited to the finance minister.
By virtue of being the owner of government banks that constitute 70 per cent of India's banking system, Government of India secretaries used to regularly issue directives to banks to micromanage them.
"The most conspicuous way in which the government had overstepped its ownership privileges was the way in which it regularly 'advised' public sector banks on how to set their interest rates in response to the Reserve Bank's monetary policy stance," Subarao said, adding this impeded monetary policy transmission and "undermined the Reserve Bank's efforts to contain inflation."
"It had almost become a standard practice for the finance minister to call a meeting of the public sector bank chiefs following each monetary policy review of the Reserve Bank and advise them not to raise their lending rates even if the Reserve Bank had tightened the policy rate," Subbarao says.
And then there were micromanagers like the secretary of the department of financial services, D K Mittal, who in 2011-12 regularly issued instructions on a variety of issues, including loan restructuring.
FLASHPOINTS
In mid-October 2008, then finance minister P Chidambaram appointed then finance secretary Arun Ramanathan as the chairman of a panel on liquidity management, without taking RBI on board.
Governor D Subbarao was "annoyed and upset" and called up the finance minister, saying the regulator will not participate in the committee
Both Chidambaram and Pranab Mukherjee as finance ministers wanted RBI to lower rates. RBI resisted, leading Chidambaram to threaten to "walk alone"
Mukherjee refused to give a second term to Deputy Governor Usha Thorat after October 2010
Chidambaram didn't give deputy governor Subir Gokarn an extension in December 2012
In July 2010 Subbarao shot off a letter to Mukherjee protesting provisions of the Financial Stability and Development Council, seen as a super-regulator to resolve disputes. Mukherjee diluted some of the provisions, respecting RBI's autonomy
Not only finance ministers but ministry officials also tried to micromanage public sector banks and even stepped into the oversight mandate of RBI.