Sameer Suneja, 41, will take over as the chief executive of Perfetti Van Melle from October 1. Till a little over a year ago, Suneja was running the Indian arm of Perfetti. Then he was appointed executive vice-president (innovation and business development) and transferred to the Netherlands. The latest elevation is a recognition of his success in India.

Globally, Perfetti is the third-largest confectioner after Kraft-Cadbury and Mars-Wrigley; in India, it is the clear leader with a market share of 25 per cent.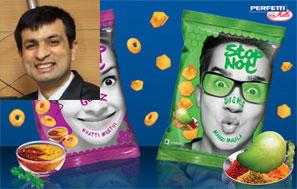 In 2012, in an interaction with Business Standard, Suneja had disclosed that Perfetti's turnover had doubled to Rs 1,500 crore (Rs 15 billion) in the last three years, and three of its ten brands sold in excess of Rs 250 crore (Rs 2.5 billion) each (Alpenliebe, Centre Fresh and Big Babol).

In a market where price points can be as low as 25 paisa, and where over 100 products are launched every year, this is no small feat. Confectioneries are purchased almost always on impulse—they are never to be found on the grocery list of households.
Almost a fifth of confectionery sale in the country is through the panwala. There are over 2 million confectionery sale points in India. Confectioners have to jostle for space at these sale points; the key for any company is to ensure that its brands are prominently visible at the outlet, preferably close to the cash counter and at a level where the child can see.
The other side of the story is to strengthen the brand equity. Suneja had claimed that Perfetti's brands had hit over 90 per cent recall in the country.

Suneja's chosen route for this was comedy. Perfetti grew in India through its quirky and funny ads. Suneja mixed the communication with some funky taglines: Zubaan par rakhe lagaam (reins in the tongue) for Center Fresh, Dobara mat pooochchna (Dare not ask again) for Chlor-Mint and Dimag ki batti jala de (Lights up your brain) for Mentos.
These were all expressions borrowed from everyday usage of the youth — the bulk of confectionery buyers are between four and 24 years. To maintain the tempo in humour and quirkiness, Suneja worked with the same creative brains and film producers for long: Ad men Prasoon Joshi of McCann-Erickson and Piyush Pandey of Ogilvy, and film maker Abhijit Chowdhury.

Film maker Vidhu Vinod Chopra came up with the name Lage Raho Munnabhai for his film, after Munnabhai MBBS (2003) had proved a runaway success, in the hope of cutting a deal with Perfetti, which used the tagline, lage raho (stay at it), for its Alpenliebe lollipop. The deal never happened, and Chopra released the film in 2006. It was an even bigger success. That was perhaps acknowledgment that the quirky and funny advertisements of Perfetti had worked well.

A little over three years ago, Suneja suggested to the Perfetti headquarters that he would like to enter new product categories. There was appreciation for what Suneja and his men had done in India, so the buy in was smooth. The discussions included outlandish ideas like an amusement park, before narrowing down to biscuits and salted snack. Suneja chose salted snacks because "biscuits are highly commoditised and the profit margins are under pressure".
The trouble was Perfetti had never made or sold anything with even a hint of salt in it. Suneja put together a team of experts, drawn from India and abroad, to develop a snack that was different in form from others in the market and carried some distinctive Indian flavours. Finally, Perfetti launched Stop Not Golz ringed snacks.

That was the first indication of Suneja's growing clout within Perfetti. His appointment as CEO confirms what his friends have always known.