Consumer businesses come to the rescue of large conglomerates in the midst of a meltdown in commodities, finds Krishna Kant.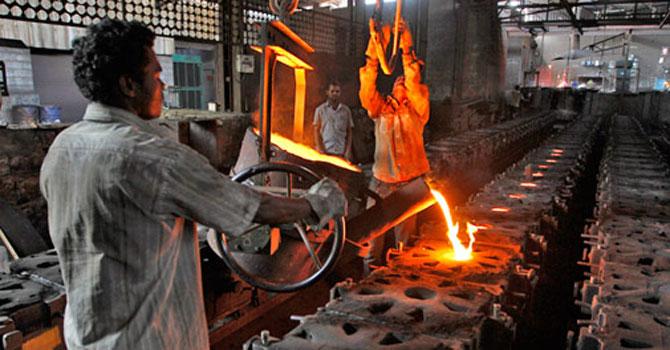 Image: The slowdown was especially tough for old business houses. Photograph: Reuters
Financial year 2015-16 started on a high note for India Inc but the mood turned sombre as the year progressed.

Corporate earnings took a beating due to a mix of poor growth in India and the global collapse in commodity prices.
The slowdown was especially tough for old business houses, such as the Tatas, Aditya Birla and Vedanta.

These have large exposure to commodities such as steel, non-ferrous metals, iron ore and bulk chemicals among others.

The fall in commodity prices stretched the finances of these groups.
For example, Tata Steel's gross debt/equity was around 2.5x at the end of September 2015 and the combined gross leverage of 19 top companies of the group was less than half, at 1.2.

The Tata group, however, retained its financial flexibility, thanks to strong profitability in software services and consumer goods companies such as TCS, Tata Elxsi, Titan and Voltas.
(Click here for tables and charts)
Similarly, Vedanta's gross debt/equity ratio shot up to 2.2x at the end of September from 1.5 a year ago.
The group, however, is not sweating, thanks to Cairn India's debt-free balance sheet and Hindustan Zinc's large cash pile, thanks to its operational efficiency.
Aditya Birla Group also faced headwinds from the continued financial difficulty at Hindalco, its biggest firm in terms of revenue.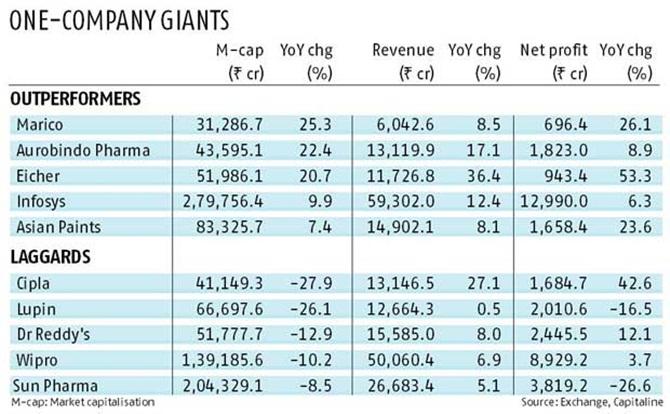 Here again, for the group, the financial situation is in good shape due to continued good show by Grasim Industries and its subsidiary, UltraTech Cement, the country's biggest in the segment.
This analysis is based on FY16 market capitalisation gains of companies belonging to the country's top business houses and are also part of the BSE 500 index.

This leaves many smaller firms of various business houses from the analysis.
Among old business houses, the Rahul Bajaj-controlled Bajaj Group and Godrej group were the top performers last financial year, thanks to the absence of commodity or capital-intensive companies in their portfolio.
Bajaj Auto is the country's most profitable automobile maker (in terms of profit margin), while Bajaj Finance and Bajaj Finserv put together are now the biggest financial groups outside non-institutional ownership.
The group has been smart in using cash flows from Bajaj Auto to build a large financial services business.
Godrej Group's Godrej Consumer Products has emerged as one of the country's top consumer companies and the group's cash cow.
From a sectoral perspective, consumer companies and hence, their promoters, posted impressive numbers while commodity producers suffered.
Companies such as Bajaj Auto, Godrej Consumer, Voltas, Torrent Pharma and Ashok Leyland, among others reported record profits and found a place in the coveted list of most valuable companies, despite lower revenues.
Another perceptible change was the resilience shown by companies present in a single business.
Sun Pharma, Lupin, Wipro, Infosys, Dr Reddy's Lab and Eicher Motors are more valuable than some of India's oldest and diversified business houses, as their market capitalisation has grown at a rapid clip.