In his massive election rallies, Prime Minister Narendra Modi often caught voters fancy promising that each individual would get Rs 15-20 lakh in his bank account if he came to power, says N Sundaresha Subramanian.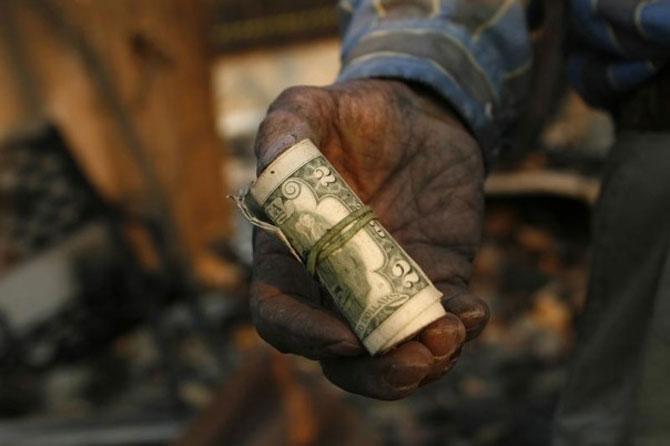 Image: Fresh revelations in the form of the global Panama Papers expose, in which over 500 Indians are said to have had investments in offshore companies, have only exposed the establishment's lack of information. Photograph: Reuters
The BJP government came to power promising, among other things, it would bring back undisclosed money stashed abroad. However, the Narendra Modi government has made little progress on that front.
In March 2009, the Bharatiya Janata Party's prime ministerial candidate, L K Advani, said their coalition, if voted to power, would bring back undisclosed ('black') money of at least Rs 25 lakh crore stashed in Swiss banks, to be used for development in the country.
Each of the 600,000-odd villages would get a share of Rs 4 crore if the money deposited by Indians, including politicians, is retrieved, the former deputy PM had said at an election rally in Khariar, Odisha.
Five years later, Narendra Modi would refine the promise a level further.

In his massive election rallies, Modi often caught voters fancy promising that each individual would get Rs 15-20 lakh in his bank account if he came to power.

Some of his party colleagues upped the ante by promising this would happen in 100 days of taking charge.
However, close to 100 weeks later, the government is nowhere close to fulfilling this promise.

Fresh revelations in the form of the global Panama Papers expose, in which over 500 Indians are said to have had investments in offshore companies, have only exposed the establishment's lack of information.
Recent data
A black money window announced by the government last year had managed declarations of Rs 4,147 crore (Rs 41.47 billion) of undeclared wealth during the 90-day window which ended September 30, 2015.

At 60 per cent payout (30 per cent tax and 30 per cent penalty), the government got a net Rs 2,500 crore (Rs 25 billion) from the declarations.

A compliance window on income disclosure has been announced in this year's Budget.
According to a report filed by a Supreme Court-appointed Special Investigation Team (SIT) in December 2014, there were 427 actionable cases in what was termed the 'HSBC List' of 628 persons and entities.

The amount involved was Rs 4,480 crore. Of these, the finance ministry had finalised a decision on 79 assessees and an amount of Rs 2,926 crore (Rs 29.26 billion) has been brought to tax towards undisclosed balances in the accounts relating to these persons.
Separately, the ministry has claimed to have managed declarations of around Rs 20,000 crore (Rs 200 billion) in the past two years through search and seizure operations across the country.

Rough calculations show that to give Rs 15 lakh to each of the 1.2 billion Indians, the government would have to unearth a hidden treasure of Rs 1,800 lakh crore or 9,000 times of what the income tax (I-T) department managed in the past two years.
Even if one assumes 211 million Jan-Dhan accounts would get the "promised cash", the department would have to outdo itself by some 1,500 times.

In fact the Rs 20,000 crore in two years quoted by senior finance ministry official Hasmukh Adhia showed no extra effort. According to a position paper on black money in 2012, the department had undisclosed income hauls of Rs 10,649 crore (Rs 106.49 billion) and Rs 9,289 crore (Rs 92.89 billion) in 2010-11 and 2011-12.
Rhetoric
Clearly, then, the 'Rs 15 lakh in bank account' claim appears to be a giant "Chunavi Jumla" or an idiomatic expression as BJP leader Amit Shah would later brush it off during the campaign for Delhi Assembly elections in February 2015.

Aam Aadmi party leader Arvind Kejriwal, a former Indian Revenue Service officer himself, had been taunting the BJP all along.
"If BJP discloses all black money holders' names, then who will give them money to fight elections in some states and buy MLAs in others?" Kejriwal had tweeted in the run-up to the Delhi elections.
Coincidentally, two days after the polling in Delhi, on February 9, 2015, came the Swissleaks expose, predecessor to the Panama Papers, where names of hundreds of Indians with HSBC accounts abroad were revealed.

Kejriwal was quick to take credit, "The names I revealed in a PC (press conference) on November 9, 2012, are there in the IE list today.

We stand vindicated," he tweeted. In those pre-AAP days in 2012, Kejriwal as the leader of India Against Corruption had the habit of calling sensational press conferences, doling out packets of documents against politicians, businessmen and relatives of politicians who had turned businessmen.
In the eye
While black money makes for good chunavi jumlas and election time point-scoring and even sting operations, it has a deeper connection with the process of election itself.

"Elections should not be fought with black money. The BJP has tried to maintain ideals. I say 'tried to' because it is difficult," India Today quoted then Prime minister Atal Behari Vajpayee in 2003.
Not much has changed in the dozen years gone by, as became apparent when Reserve Bank of India governor Raghuram Rajan talked of abnormal surplus cash in the system.

Red-flagging a massive surge in cash circulation during the ongoing state elections, Rajan said money in people's hands has gone up by over Rs 60,000 crore (Rs 600 billion), which was "not normal" and needed to be looked into.

"You see some (spike) not just in the states going to elections but also in the neighbouring states. There is something...We need to understand it better," Rajan said.
Coming from the man at the helm at Mint Road, the numbers and the comments show that despite significant advancements in surveillance, tightening of reporting requirements and global cooperation, black money continues to be a problem that needs more understanding.
Trilochan Sastry, a professor at the Indian Institute of Management in Bengaluru and one of the founders of the Association for Democratic Reforms, said, "One of the roots of black money is elections. They have made rules of the game such that whoever spends more has a better chance to win the elections. A majority of them feel it is the only way (to win)."
The belief is not wrong, as the electorate does not return too many candidates who do not splurge. ADR analysis of winners in the 2014 Lok Sabha elections showed that of the 542 winners analysed, 443 (82 per cent) were crorepatis.

This was much higher than 58 per cent crorepati MPs returned by the electorate in 2009.
Party-wise crorepati winners were as follows: 237 (84 per cent) of 281 winners analysed in BJP, 35 (80 per cent) of 44 winners in INC, 29 (78 per cent) of 37 winners in AIADMK and 21 (62 per cent) of 34 winners in AITC had declared assets worth more than Rs 1 crore.
ADR had concluded that, "the chances of winning for a crorepatis candidate was 20 per cent, while that for a low asset candidate is just two per cent. Political candidates spend crores of rupees in campaigning, while the official limit is for a parliamentary constituency is Rs 70 lakh and even less in smaller states."
A lot of this is usually unaccounted money. "But, whether this is coming from abroad or it is locally generated, we cannot be sure," Sastry said.
Most political parties have very opaque funding structures and do not disclose donations below Rs 20,000.
Many of them have been seen close to shady business interests, chit fund and other questionable financial schemes.
The fortunes of these questionable financial schemes are usually closely aligned to that the political parties their owners are close to.
It is not uncommon to see multiple central agencies attacking a particular businessman in a state and then suddenly cooling off after a political deal had been stuck.
Black money thus, apart from being a subject of debate and an electoral fuel, is a bargaining chip in striking and breaking regional alliances.
Bringing more transparency to the political funding process is key. Sastry of ADR said, "We need electoral reforms. There should be more and more transparency. The Election Commission and courts are keen. But, there are no quick-fix solutions."
At a discussion last December on the political funding process, former information commissioner M L Sharma said, "The only way to achieve transparency in finances of political parties is that the Supreme Court upholds the decision of the Central Information Commission in bringing political parties under RTI (the national Right to Information law)."
The apex court should also ensure that all parties obey the order by imposing such a penalty as would deter them from being opaque in their finances, Sharma had said.
The white paper on black money had discussed numerous methods and ways through which black money can be generated.
It had gone in detail into the question of how much money is actually stashed abroad, which the politicians keep promising to bring back.
It dismissed various numbers floating around in the media at that time. The paper did not give a definite estimate, citing lack of uniformity, unanimity or consensus about the best approach to be used to measure black money.
The SIT mentioned earlier is monitoring the steps taken by various central agencies to curb the menace, starting off from the white paper.
In its third status report in July 2015, it had suggested measures to curb generation of black money through long-term capital gains trade-based money laundering, cricket betting and shell companies. It has ordered a probe into the Panama papers, too.
Sastry of ADR says if the government wants to do it (eradicate black money), they can do it. "Why they are not doing it, we can only infer. There are no facts on this."
What needs to be done
"Some of the widely circulated figures about black money of Indians stashed abroad have been, as discussed earlier, baseless exaggerations and there is strong likelihood that a substantial amount of such money transferred abroad illicitly might have returned to India through illicit means. Thus a multi-pronged strategy, including joining the global crusade against black money, creating an appropriate legislative framework, setting up institutions for dealing with illicit money, developing systems for implementation, and imparting skills for effective action, is required to deal with the issue of generation of black money and its illicit transfer outside the country, and for bringing it back to India." - White Paper on Black Money, May 2012.