The Secretary of Department of Industrial Policy and Promotion (DIPP), Amitabh Kant tells Rahul Jacob how India could be made an easier place to do business in and why India's software smarts will give it an edge.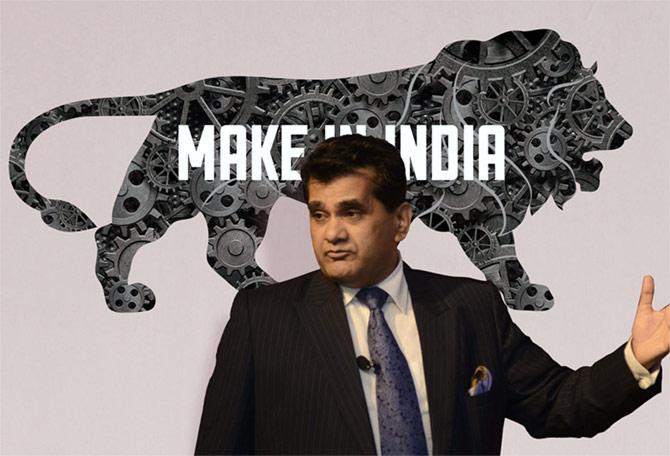 Image: Amitabh Kant is spearheading the government's Make in India push. Photograph, courtesy: Amitabh Kant's website
Golfers make their way past medieval monuments at the Delhi Golf Club on an absurdly beautiful Saturday afternoon.

It seems just the backdrop for the blue-sky thinking and sunny optimism of Amitabh Kant.

Optimism is a necessary qualification for his job: Kant is spearheading the government's Make in India push, a much needed attempt to create factory jobs.

Decades of stifling regulations and restrictive labour laws, however, have made India a leading example of what economists have termed premature deindustrialisation; its share of manufacturing jobs of total employment is roughly what it is in post-industrial United States.

Kant is also in charge of making the country more congenial for start-ups, many of which prefer to be domiciled in Singapore and he has just been appointed chief executive of Niti Aayog.
Kant needs to be - and is - a man in a hurry. He bounds up the stairs to the terrace where we snag the last table overlooking the golf course.

He is wearing an elegant checked suit with an orange and turquoise silk handkerchief in his breast pocket. Kant looks more a private sector executive than the career bureaucrat (Kerala cadre, 1980 batch, who in theory would retire in March) he is.

Kant explains that he has been working on Saturdays to ensure that both the Make in India initiatives in Mumbai in February and the Start Up India event on January 16 go smoothly, explaining there is a "huge amount of detailing" needed.
From the Mamagoto chain's menu at the club, Kant suggests Khow Suey and a delicious grilled sole and we add a chicken with basil and star anise.

The waiter asks for his membership card. Kant then dives into what will be a main course before our nimbu sodas even arrive – making India an easier place to do business in.

He is excited that the states are now in competition on yardsticks determined by the World Bank such as contract enforcement and the ease of getting an electricity connection.

"The way Andhra Pradesh has challenged its officers, Gujarat will have to work hard to keep its number one position," he says.

He then muses out loud that the disbursements from the Centre to the states "should be directly correlated to performance".

Pay (or grants) for performance seems a radical notion. "That is the only way for India to improve. India is the sum of its states."
Kant's goal of India being in the top 30 in five years on the ease of doing business survey - from 130 of 189 countries currently — seems overly ambitious.

He insists that the recent commercial courts act and the proposed bankruptcy code, which he wagers "will have as much of an impact as a goods and services tax", will help India move up the ranks speedily.

The commercial courts Act passed at the end of the winter session, which received very few headlines, raises the pecuniary threshold to Rs 1 crore, from a rather low Rs 50,000, and could reduce the number of cases waiting to be heard in the high courts of Bombay, Delhi, Calcutta, Madras and Himachal Pradesh from 17,000 to about 4,200.
It takes on an average 1,420 days currently to enforce contracts in India. Kant admits that India's progress will depend on creating a different "mindset" among the bureaucracy. Much needed, but hard to bring about.

The press release, for instance, announcing Kant's appointment to Niti Aayog was worded thus: "The competent authority has approved the appointment...after his (Kant's) superannuation. The terms and conditions of his appointment will be conveyed in due course."
I ask whether, in the aftermath of the Bihar elections result, the government had been in a rush to push out announcements such as a liberalisation of investment in 15 sectors including railways, defence and construction announced in November.

"It was one of the best drafted notes," he counters, before arguing that politics always trumps economics in the Indian news cycle.

"India is politically overheated all the time."

As India becomes a more middle class country, urban issues and governance will eventually trump politics, he says.
I ask Kant about dealing with just those issues at the beginning of his civil service career in small-town Kerala and his stint as managing director of the state fisheries corporation.

He becomes even more animated talking about the fibreglass boats and outboard motors the government was able to help the fishermen upgrade to, and it even created specially designed buses that would allow them space for their wide baskets on their way home.

Similar to the problems encountered by millions of the country's farmers when selling produce, "in Kerala, the fish caught by the fishermen would change hands 14 times before it reached the consumer".
Kant initiated beachside auctions.
As collector of Calicut, he took on encroachments on a war footing and helped create the first private-public airport in the country.

And he famously leveraged the "God's Own Country" campaign created by a colleague by focusing on Ayurveda, Kerala's traditional wooden houses and its verdant paddy fields to put it on the global tourism map.

Prime Minister Atal Behari Vajpayee on holiday at the Taj-Kumarakom one winter noticed Kant's good work and he was summoned to New Delhi to the tourism ministry just before 9/11.

The Incredible India campaign was launched a few months later when hotels were at 50 per cent occupancy.
Under the Manmohan Singh government, he was point man for the Delhi-Mumbai Industrial Corridor (DMIC), the mother of all ambitious projects.

Kant points out that if 700 million Indians are to live in cities by 2050, urbanisation needs to be carefully planned and at the same time outsourced by the government.

"DMIC was a 10-man body…it bid out (work) to companies like Larsen & Toubro and Shapoorji Pallonji."
Special purpose vehicles were created, facilitating the monetising of land values to build urban infrastructure.
I suggest that he will be known for starting efforts like DMIC and Make in India, but it will be hard to judge the results till much later.
"It's important for a civil servant to put in place the framework," he says.
Unlike Kant, I am pessimistic about India's prospects generally and even more so about Make in India because global trade growth has slowed while China's productivity levels and highly mechanised ports and six-lane highways are leagues ahead of us.
"India can never be another China," he says, but this is a prelude to optimistically extrapolating that as manufacturing gets more digitised and 3D printing is used more in manufacturing, India's software smarts will give it an edge.
"India's young have an entrepreneurial energy that China does not have," he argues, pointing to the prospect of e-commerce in India being a $500 billion opportunity by 2020.

Both assertions are debatable. It is early days for Make in India, but Chinese companies are planning $2 to $3 billion in investments in India to make phones, and so many chief executives have come visiting India over the past few months that private jet landings are up 12 per cent, The Economic Times reported.

The government can also point to large investments by General Electric, the Chinese developer Dalian Wanda and Taiwan's Foxconn.
We end by talking about his daughters, of whom he is noticeably proud, even alerting me to a book review written by his elder daughter in Business Standard.

One is a country risk analyst in London while the other has just finished at Oxford.

"They think I'm gung-ho all the time," he says with a laugh. Then, he tells me more about the Start Up conference.

It is a couple of weeks before the event, so I unwisely assume the speakers he mentions are still unconfirmed — SoftBank's Masayoshi Son and Uber's Travis Kalanick — but they indeed are part of the line-up for the mega start up event on January 16. Working Saturdays has paid off for Kant.