Advertisement revenues will go up in 2016-17 with automobiles and e-commerce being big contributors.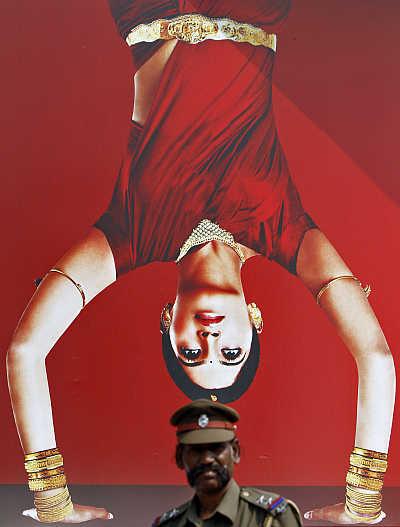 Image: Advertisers will be drawn towards the growing rural and semi-urban sweep of the sector. Photograph: Reuters
Rural India is set to assert its power over the media and entertainment sector (M&E) in 2016-17, pushing ad spends and viewership numbers forward, a report by India Ratings and Research, a Fitch affiliate, indicates.

The sector is expected to grow by 10-12 per cent, with digital media outpacing traditional forms by a huge leap, growing 50 per cent in FY17 over FY16.

Advertisers will be drawn towards the growing rural and semi-urban sweep of the sector, with auto and e-commerce contributing the most to ad revenues.
Telecom could play a big role too if the promise of 4G holds up.
Tanu Sharma, analyst with India Ratings, who has co-authored the report with Rakshit Kacchal says, "These are under-penetrated markets and the next wave of consumption is expected to come from there, advertisers are therefore going to be very interested."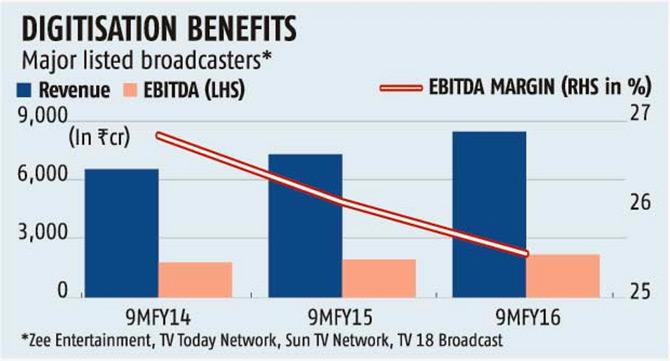 But players will have to find ways to push up profit margins; for broadcasters, it will mean tackling last mile structural issues and for traditional media, sidestepping the lengthening shadow of digital dominance.
The report bets on improved GDP growth forecasts, expected to be a major driver for higher y-o-y advertising (ad) spends in FY17.

E-commerce and auto will be among the biggest contributors to ad revenue and the upcoming 4G launch by telecom operators will turn up the ad volumes even further.

This will more than offset the decline in ad spends by real estate and education sectors, the report says.
For print, vernacular products will see the maximum rise in ad revenues.

For broadcasters, the third phase of digitisation, which is expected to bring semi-urban regions under its fold, will bring in the moolah.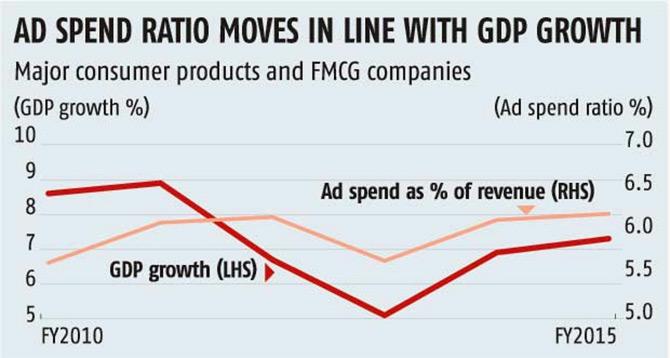 And film exhibition players will reap the benefits of consolidation as new screens come alive in small towns.

Overall, M&E, like the FMCG industry and several others, will be tracking rural numbers more closely than ever before in 2017.
The report says, "Advertisement revenues will remain robust for regional print media players."

While the report does not break down the ad revenue numbers for all media players, it says that Hindi/vernacular print media's ad revenue is likely to grow by 13-15 per cent.
The vernacular press will benefit given the paucity of advertising vehicles in the hinterland.

The print medium, currently accounts for over 40 per cent of the M&E industry's total ad revenues.

The report expects Hindi/vernacular print media companies' profitability margins to improve in FY17, especially as newsprint prices moderate due to a decrease in global demand.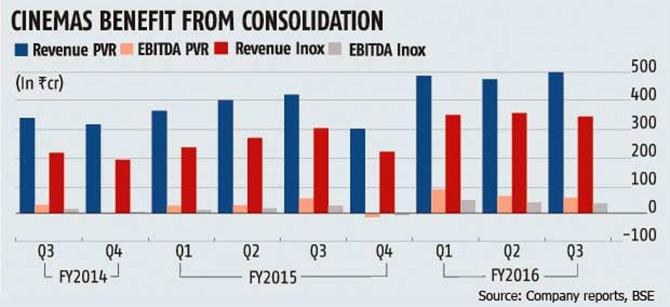 Digital media, however, at around 50 per cent y-o-y growth will outpace the industry by a huge margin though it still contributes just 5 per cent to the overall M&E sector.
Broadcasters will gain from the third phase of digitisation, expected to be a major revenue growth driver in FY17.

Profitability margins will grow in FY17, as broadcasters have already incurred incremental costs for content fragmentation in FY16, the report says.

However, Rakshit Kacchal and Tanu Sharma point out that the challenge is last mile connectivity.

"Multi-system operators (MSOs) are yet to realise the full benefits of cable TV digitisation in India as the industry is still grappling with issues over last mile connectivity," the report says.
The cinema business will see a sharp increase in the number of screens in FY17, which will be primarily centred around Tier II and III cities.

According to CMIE, the industry is estimated to add 135 screens in FY16 and an additional 600 screens over 2017-18.
Currently the business is dominated by four large players in India, namely: PVR, Inox Leisure, Carnival Cinemas and Cinepolis India.
The report says, "There has been an improvement in the business profile of the top two listed players in 2015. Both revenue as well as EBITDA have grown for PVR as well as Inox."
However, two factors could play spoilsport. One is the players have no control over the content pipeline and the other is seasonality.