There was buzz over Piyush Goyal being elevated to Cabinet rank but only Prakash Javadekar finally made the cut.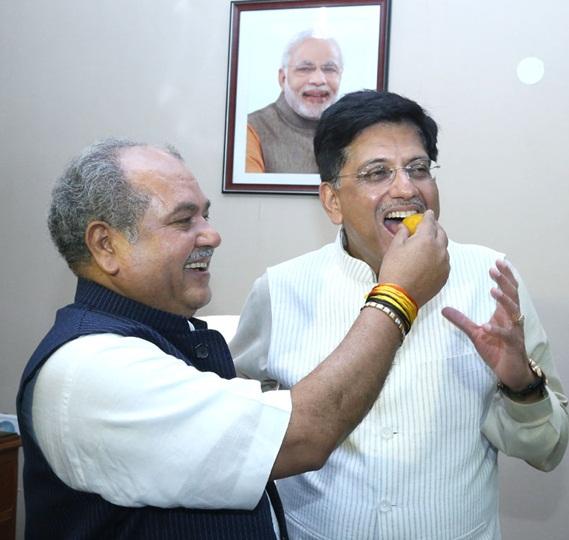 IMAGE: Piyush Goyal taking charge as Minister of State (Independent Charge) for Mines, in the presence of the Union Minister, Narendra Singh Tomar. Photograph kind courtesy, Press Information Bureau
If the contribution to the economy by the infrastructure sectors allotted to a minister is taken as a benchmark, Piyush Goyal's portfolio could be a significant game-changer.

The minister of state (independent charge) for coal, power and renewable energy has been entrusted with additional charge of the ministry of mines in the latest Cabinet reshuffle.
The contribution of the mining sector, including coal, to the gross domestic product is 2.5-2.7 per cent, and electricity adds another 0.9 per cent.

This makes Goyal one of the key ministers in the government overseeing four major economic departments.

His job is not easy, because most of his departments deal entirely or in part with state subjects.
There was buzz over Goyal being elevated to Cabinet rank but only Prakash Javadekar finally made the cut.

Dharmendra Pradhan was neither elevated nor given additional responsibility.
The decision to give Goyal charge of the mines ministry comes at a time when the sector has been put under a new legal regime.

States have started conducting auctions but these are yet to gather pace.

The reasons for the delay are land and environment clearances, low demand for minerals, and the state governments' inexperience in complex mine auctions.
Goyal said outgoing minister Narendra Singh Tomar had done an outstanding job by improving the basic infrastructure of mining in the country and "all we have to do now is to carry his work forward".
A Rajya Sabha member from Maharashtra, Goyal came into the limelight by conducting the first e-auction of coal blocks after the Supreme Court in 2014 cancelled all mine allocations over the past two decades.
Goyal is credited with bringing renewable energy into focus.
Goyal is pushing the National Democratic Alliance's narrative of cooperative federalism by involving states in a plan to revive power distribution, solar power projects, coal auctions, and the popular LED (light-emitting diode) disbursal scheme.
Auctioning minerals apart from coal is a different ball game. Coal mines are allotted by the central government but mineral auctions are in the domain of state governments, with the Centre acting as a guiding authority.
The Mines and Minerals (Development and Regulation) Amendment Act, 2015, requires the issuance of mining leases stuck at various levels of the government by January 2017.
If the deadline is missed, the government could face litigation.
"My focus will be on increasing transparency and growth. I will have a dialogue with all stakeholders on creating a development road map for this sector," said Goyal.
A major task will be the successful execution of the new mineral exploration policy under which around 100 blocks are to be auctioned.