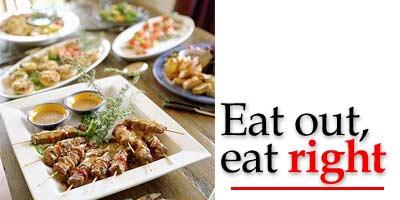 Are you eating out once again and worrying about the calories? Maybe it's time to try something new. How about starting with a glass of karela juice?
Follow it with a platter of 'healthy' papri chaat and a main course of humble green tindas, tandoor roasted, and jazzed up by a special seasoning of spices.
This summer more Indians are getting on to treadmills and reading up on South Beach Diets. But there is another, healthier way to ditch that fat. Many restaurants are going all out to woo waist-watchers. From fat-free chaat, to Ayurveda-inspired lunches and fig bar diet desserts, there's plenty on offer for those who want to eat out but also eat right.
This week, Ishi Khosla, a Delhi-based nutritionist formerly with Escorts Heart Centre, rolls out what she calls a chai and chaat cafe at New Friends Colony. Almost 20 varieties of tea are on offer, right from Japanese green tea to therapeutic Indian tulsi but the real USP is a health chaat.
The street spice is all in place but healthier alternatives have been added. Papri Chaat, for instance, comes with baked instead of deep fried papris and you have other wholesome variants such as a chana (black gram), bhelpuri instead of puffed rice. These are priced at around Rs 20.
Khosla also owns Whole Foods, a company manufacturing and retailing 'complete health food', from organic dals and unpolished rice to whole-wheat pizzas and pasta and a whole range of bakery products including diet no-nos such as chocolate cakes and cookies.
"Before I started out three years ago, I had people coming to me saying we only eat Marie biscuits but even that is unhealthy since it uses arrowroot flour and hydrogenated fat. Cakes and cookies can be made healthier by substituting refined flour with wheat and using vegetable oil." Khosla retails all the goodies under her own brand name.
The 800 products on offer are in the price range of Rs 5 to Rs 2000 though the average price would be Rs 30-40 for a packet of snacks.
Indians are increasingly turning health-conscious and worrying about unhealthy restaurant food. So the restaurants are figuring how to cope with the new breed of customer.
In Delhi, Japanese hotel Nikko serves an organic rice Sushi. The Oberoi has drawn up promotional plans for its Indian restaurant focusing on light tandoori cuisine. The newly-revamped Park Hotel, the latest gathering point for the city's hip, chattering classes, is in sync with the trend too.
It has roped in celebrity weight management consultant Dr Shikha Sharma to draw up a special summer menu. Sharma incorporates some of her Ayurveda and Naturopathy-inspired 'mono diets'. She frowns upon typical combinations such as heavy proteins and heavy carbohydrates (rice and chicken, for instance), which are deemed unhealthy and fattening.
These are replaced by consolation Continental-style platters with vegetables and fresh seasoning "so that the dieter feels satisfied", says Sharma.
The restaurant already has a menu focusing on minimal oil cooking and healthy greens -- you can eat saags that you wouldn't touch at home, off Michael Aram platters at five-star prices. "We are using techniques like stir frying, steaming and poaching," says executive chef Bakshish Dean.
Meanwhile, in Chennai, celebrity food consultant Karen Anand has opened her first restaurant. Called Citrus, the USP is Mediterranean cuisine, widely regarded as healthy because it uses lots of fresh herbs and minimal oil. The restaurant has been set up in a tie-up with Nina Reddy, who owns the Savera Hotel as well as several gyms, "and is into fitness".
Anand, with her trademark style of cooking, obviously fitted the bill. Here, she goes a step further. Apart from "closely controlled" olive oil quantities (no deep frying), the menu incorporates almost no cheese, no white sauce, almost no red meat (just one lamb preparation).
Instead, there are organic English veggies brought in fresh from a farm in Bangalore. One of the most popular dishes is a pan-grilled Thai-style chicken served not on a bed of rice but vegetables. "Even the older, conservative people who are here order this," says Anand.
However, health food is a confusing concept in India yet. In general, it can be distinguished as 'therapeutic' or healing, diet food and general wholesome food, the healthier options.
But few consumers appreciate the differences and there are few studies available as to the size and potential of this market. The common consensus, however, is that it's growing swiftly with everyone from pharma companies to smaller individual players jumping in.
If food isn't enough how about a healthier glass of juice? Amorettos, a 'juice bar chain', has now positioned itself as a health and fitness brand.
Apart from fresh juices and smoothies, outlets in Mumbai, Kolkata and Delhi serve health drinks: WheatGrass, Spirulina, Soy Protein and, yes, Bitter Gourd juice. Then there's Juice Zone, North America's premier juice and smoothies brand that has just set shop in Gurgaon. The smoothies are touted as having less than 2 gm of fat.
Meanwhile, other non-specialised cafes are also offering a few healthier options. Bread And More, with outlets in Delhi, Mumbai and Goa, has low cal options including multi-grain, rye and whole wheat breads.
Delhi-based Nirula's offers to bake such breads on request. And Subway, the sandwich chain, has just introduced six new 'subs' with just 6 gm of fat. Is this what they call an eating-out revolution?
Powered by