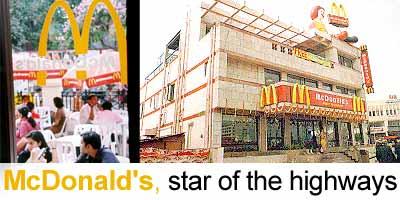 It's a test-run that's been wildly successful for McDonald's chief Vikram Bakshi. Back in 2001 Bakshi took McDonald's on the road and opened its first outlet by the glittering, six-lane strip of highway that connected Delhi and Agra.
Today, about 1,800 customers troop into the restaurant at all hours of the day for a diet of burgers, McPizzas and chips. "It has seen 25 per cent growth year on year," says Bakshi.
Now Bakshi is hitting the road once again -- but he's offering more than just McDonald's fare. He has opened a smart wayside halt that will offer everything from a convention room to a food plaza and even rooms for overnight stays. There will, of course, be a McDonald's but there will be a choice of cuisines for weary travellers coming off the road.
Bakshi isn't the only person who's stepping on the gas and heading for the highway. A clutch of entrepreneurs are steering their way to a buffet of new opportunities. There are fast-growing chains like Cafe Coffee Day and Delhi-based Sagar Ratna.
And there's even Mount Shivalik that has opened a highway restaurant, Thunderpoint, on the Delhi-Jaipur highway. Its USP: it offers draught beer from its brewery, only 4 km from the restaurant. Whether that's a good idea for tired drivers is, perhaps, questionable.
Why are all these hard-headed businessmen looking road-wards? First of all, more Indians are travelling on highways than ever before. Also, the oil companies are battling each other for supremacy and are on a building binge, putting up new petrol pumps along the highways. And they want to put up restaurants, ATMs and a range of other services at every pump.
Bakshi explains that the new scenario began to evolve when oil companies started looking at non-fuel revenue. "Twenty-eight per cent of all sales in petrol pumps is from non-fuel in France, and 38 per cent in the US," he points out. Now, all the oil companies are betting big on highway outlets."
That's because with improved infrastructure, more transport and personal vehicles are on the highways. According to an IMRB study, the high-speed diesel consumption on highways is 67 per cent of total HSD sales.
Says T L Jain, executive director, Indian Oil, "On one hand, there is increased diesel usage and on the other, buying patterns of consumers and their travelling habits have changed. All this makes highway outlets more attractive."
Also, as new competitors like Reliance and Essar attempt to take on the old-timers like IOC and Bharat Petroleum they've found it tough to get land in the metros for petrol stations. So, the battle is turning to the highways.
IOC plans to set up 1,005 outlets, of which 400 will be on the highway at a cost of Rs 1,348 crore (Rs 13.48 billion) by the end of this fiscal. Similarly, BPCL will invest Rs 500-crore (Rs 5 billion) to build 700 new outlets and Hindustan Petroleum is putting up 900 for Rs 1,200 crore (Rs 12 billion).
All the oil companies are clear about the future. About 66 per cent of IOC's 9,400 operational petrol pumps are on highways. And while they are setting up new ones, the existing ones are being upgraded. Most will be spread out over 2.5 acres to 5 acres, and will have amenities from post offices, authorised service stations and and eating joints to cybercafes, ATMs, rest rooms and motels.
A host of companies have figured they can leverage the retail plans being put together by the oil companies. So from Barista and Cafe Coffee Day, to US Pizza, McDonald's and Pizza Hut, they all want to woo the highway traveller.
Take Cafe Coffee Day, which has two highway outlets -- on the Bangalore-Mysore Highway and the Delhi-Jaipur Highway. The company plans to have 20 more by March 2005, in all corners of the country. It has tied up with both BPCL and HPCL to ride on the oil companies' highway plans. Says Sudipta Basu, marketing head at CCD, "We are always in search of high traffic zones. And petrol pumps have the best locations on the highway."
How different are these CCD outlets from the ones in the city? "All the offerings are the same. In fact, at times, we even offer more," says Basu. For instance, on the Bangalore-Mysore route, CCD has a fried food counter selling fresh pakodas. For the first time, it's even offering a full-fledged breakfast menu of eggs and toast.
Very often, if the oil company is confident of high traffic for the outlet, it prefers to take a cut of the profits. "We will take a share of the profits ranging from 2.5 per cent to 5 per cent, or charge rentals from the joints," says IOC's Jain.
Mind you, all these newcomers say they will offer international standards in cleanliness and they won't be upmarket dhabas. Bakshi's new waystop, located near the Karnal golf course, for instance, will be a smart spot with a food court, an eight-room three-suite motel, a mini-conference hall, shops and musical fountains.
The rush to the highway is attracting other unusual players like Tryus Hospitality, which aims to open a chain of highway diners under the brand name Mama's Kitchen, along various hill routes.
The first of these diners opened early this month near Dharampur, on the Chandigarh-Shimla highway. "It's a good location, since it's at a point on the highway that is already a popular stop," says Colonel Rai, a partner in Tryus Hospitality with architect-turned-businessman Mohit Gujral.
Tryus has hired food consultant Manu Mohindra to advise on the new chain. Says Mohindra: "People are travelling more but the only existing choices are dhabas or tourism board joints. There's a definite gap."
Another player who has moved from an entirely different business is Mohnish Bali, director-marketing, Mount Shivalik, who has set up Thunderpoint. "With highways becoming better, the services available along the route need to improve as well," says Bali. Two more are in the works, one on the Delhi-Chandigarh highway and the other along Delhi-Agra.
For the Sagar Ratna restaurant chain moving to the highways isn't such a big leap. The chain is already running one outlet on the Karnal highway. Also, it has just opened a second restaurant on the Agra highway, which will target tourists on their way to Mathura.
But there are some unusually Indian problems faced by restaurateurs of the road. So, many petrol pumps will have subsidised canteens in addition to restaurants. "This is important, since people won't want to sit and eat in the same restaurant as their drivers or with truckers," says Sadashiv Bhat, director, Sagar Ratna.
However, there are impediments to the growth of a highway restaurant culture of the type that exists in the West. "The National Highway Authority must have a policy on signage," says Bakshi. "Abroad, you have fork and knife signs with restaurant names below." Tryus Hospitality's Col Rai agrees that promotion is a stumbling block. "Word of mouth plays a big part and customers are changing all the time."
More crucially, Bakshi points out that the concept of slip roads doesn't seem to exist here. A slip road is an underpass that allows vehicles travelling on one side of the highway to stop at an eatery located on the opposite side. "Without such roads, which are the norm on highways overseas, a restaurant can cater only to traffic going in one direction," says Bakshi.
That could be a speedbreaker for growth -- but all the new highway stars are trying to make sure that it's only a temporary one.
Powered by