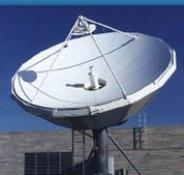 A high definition format for television viewers to enjoy the Commonwealth Games and efforts for auction of 3G spectrum were some matters that kept the Information and Broadcasting Ministry busy in 2009.
During the end of the year, the government approved the delayed Headend in the Sky (HITS), which gives cable operators an option to distribute signals through satellite and provide digital transmission to subscribers.
UK-based Satellite Information Service Live was shortlisted in October by the ministry for broadcasting the Games through HITS on behalf of Doordarshan.
The year saw the much-awaited Broadcast Bill kept on the back burner due to wrangling on the content code, efforts for auction of 3G spectrum and government trying to stop entry of fly-by-night TV and other media operators.
On the upside, a major change was seen in print media when government allowed Indian editions of two foreign publications. The first half of 2009 witnessed confrontation between Prasar Bharati Board members and CEO B S Lalli.
In May, Prasar Bharati chairman Arun Bhatnagar resigned from his post. His resignation was accepted only on December 18 after a gap of seven months. Ambika Soni, who succeeded Sharma in the second UPA regime, sent a detailed report on the infighting within the public broadcaster to Prime Minister Manmohan Singh.
Soni was unhappy over the unused infrastructure worth crores of rupees at Doordarshan headquarters in Mandi House in the heart of the city and directed officials to start broadcasting of DD News from there from November 19.
She had also asked DD officials to shift its operations to Mandi House.Till date, the transfer of assets to Mandi House is yet to start.
Doordarshan does all its production work from its Khel Gaon studios. Soni invited broadcasters, wary especially after the ministry's warning to adhere to its Content Code in the post-26/11 Mumbai attacks on TV coverage of news and sensitive events, for discussions on developing content regulations.
Concerned over the growing number of TV channels, she also sought Telecom Regulatory Authority of India's (TRAI) views on regulating the entry of new channels. With the telecom ministry preparing to start 3G spectrum auction for operators, the I&B ministry is getting several applications for starting new TV channels.
There are already 500 channels on air. In another move, Soni wrote a letter to Home Minister P Chidambaram on unauthorised telecast of several religious TV channels, in violation of the Cable Television Networks (Regulation) Act 1995. Chidambaram assured Soni that his Ministry would look into it.
Concerned over children being exposed to adult content on TV, Soni also floated the concept of a parental lock system and fixing 'watershed hours' for showing such programmes.
Such a provision would help parents lock certain channels, which they think should not be viewed by children, while adult content could be shown between 11 pm and 4 am. During the year, the ministry also gave clearance to two foreign publications -- Spectator and Forbes -- to bring out their Indian editions.
Soni announced her ministry would soon amend the Press and Registration of Books Act 1867, and would be known as Press and Registration of Publications Act 2009. Among others, the new Act will look into blocking frivolous and non-serious publications.
The preamble of the Act will be modified to include provisions for FDI, facsimile editions of foreign publications and Indian editions of foreign publications. By March 31, 2010, the draft of the amended Act would be put up on the Ministry's website and stakeholders' comments will be sought, before sending it to Parliament.
Soni announced that four more Indian Institutes of Mass Communication will be set up to meet growing demand for media professionals, taking the number of IIMCs to six from the existing two.