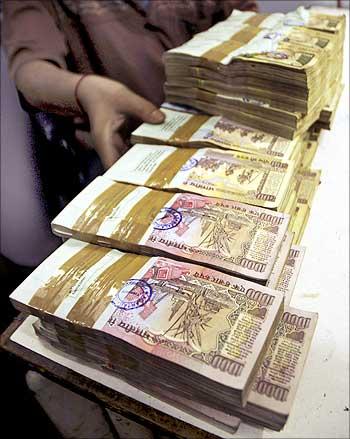 Global ratings agency Standard & Poor's on Thursday pegged India's FY'14 GDP growth at 6.4 per cent, one of the most optimistic estimates among analysts, and said it may upwardly revise outlook on the sovereign rating if the government continues to focus on policy initiatives.
"We may revise the outlook to stable if the government implements initiatives to reduce structural fiscal deficits, improves investment climate and increase growth prospects,"
S&P, which last April put India's sovereign rating outlook to negative (BBB- which is close to junk status), it said in a note.
The agency, which had followed up on the outlook revision with a series of commentary threatening a downgrade of the sovereign rating to junk, specifically suggested an efficient use of the fuel, fertiliser and agricultural subsidies to bring down the fiscal deficit or an early implementation of the goods and services tax (GST).
It, however, said that factors like five state polls in the second half of 2013, followed by general elections next year and the worsening economic environment both globally and domestically would make it difficult to rein in fiscal deficit at the targeted level of 4.8 per cent for FY14.
"There is still downside risks because of uncertain external demand, a worse-than-expected monsoon, and political paralysis," it said, adding declining growth in Asia's third-largest economy will start bottoming out starting next month.
On the back of this expectation, the agency estimated the GDP growth next fiscal to come in at 6.4 per cent.
Last month, the Central Statistics Office had estimated FY'13 growth to come in at a decade low of 5 per cent. Finance Minister P Chidambaram pegged it to be between 6.1 and 6.7 per cent in the Budget.
Global financial institutions HSBC and Morgan Stanley have lowered India's economic growth forecast for the next financial year to 6 per cent from 6.2 per cent earlier.
Sagging growth, coupled with a sense of 'policy paralysis' had led global rating agencies like S&P and Fitch to revise their outlooks on India's sovereign rating last year to the lowest investment grade of BBB-. The actions led to urgent steps on the economic front from the government.
Among the global rating agencies, only Moody's has a positive outlook on the country with BBB+ rating.