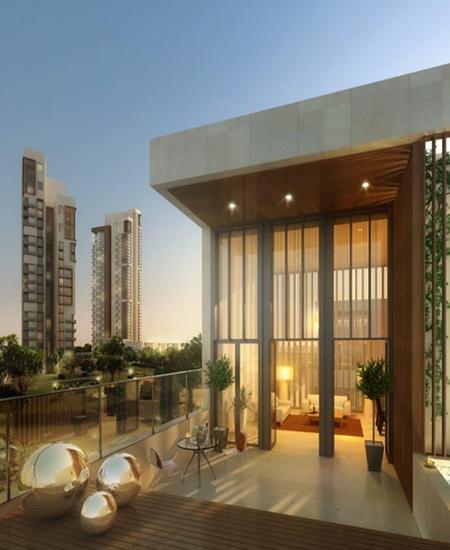 Tata Housing's luxury villas at Hailey Road in New Delhi, priced at Rs 190 crore (Rs 1.9 billion) each, will be sold by Sotheby's International Realty.
The complex, on 1.3 acres, will house the four villas.
An old mansion was razed after Tata Housing bought 2 Hailey Road in 2012 for Rs 250 crore (Rs 2.5 billion).
The address is a walk away from Connaught Place.
Ashwin Chadha, founder and president, global real estate advisor (north India), Sotheby's International Realty, told Business Standard the villas would be sold to wealthy individuals.
Sotheby's International Realty was founded in 1976 by the Sotheby's auction house.
According to the Tata Housing website, the villas will have private pools, landscaped gardens and terraces, double-height patios, jacuzzis, private elevators, verandahs, and sun decks.
There are also provisions for home theatre, gym, spa, and library.
North India Sotheby's International Realty, a franchise of Sotheby's International Realty, sells luxury houses in India and abroad.
North India Sotheby's International Realty was set up in June 2014, and operations started in November-December.
"We have sold properties worth Rs 80-100 crore (Rs 8-10 billion) in south Delhi, Gurgaon, and Goa," an executive said.
It expects to sell Rs 500 crore (Rs 5 billion) of properties this year.
"Developers are coming up with new concepts across India.
"According to a recent report, the number of wealthy Indians is expected to double over the next 10 years," Goyal said.
"There is huge demand for luxury projects in prime locations in and around Lutyens Delhi.
"The demand outstrips supply by a large margin and this makes it one of the most important markets for us," Tata Housing managing director Brotin Banerjee had said in an interview earlier.
Subhash Chandra's Essel Group recently bought a bungalow for Rs 304 crore (Rs 3.04 billion) on Bhagwan Dass Road in Delhi, making it among the costliest property deals in the country.
The Lodha Group's Rs 100-crore (Rs 1-billion) apartments in The World Tower, Mumbai, in a tie-up with international designer Giorgio Armani, are also among the most expensive homes in the country.
Luxury houses are mostly priced between Rs 10 crore (Rs 100 million) and Rs 35 crore (Rs 350 million).
"The demand for high-end villas is increasing.
"This segment constitutes 10-20 per cent of the total real estate market in the national capital region," said Santhosh Kumar, chief executive officer (operations) and international director, Jones Lang LaSalle India.
Photograph: Kind courtesy, Tata Housing