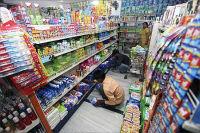 Leading consumer good firms Dabur, Godrej, and Wipro Consumer Care and Lighting on Wednesday said they will consider going for another round of price hike to offset high input cost as high raw material prices continue to be a challenge.
"We have taken up prices of a few products in March, the impact of which is yet to flow in. Going forward, we will be watching the inflation very closely and will put in place calibrated price hikes wherever necessary," said Dabur India Chief Executive Officer Sunil Duggal.
He, however, did not provide further details by how much and by when it is likely to increase.
In March, Dabur had increased the prices of some its products like hair oils, cooking pastes and fruit juices by around 4-5 per cent.
Similarly, Wipro Consumer Care & Lighting, which sells
Santoor
brand of
soaps, said it will look at raising the prices of its products in the near future.
"Raw material prices are definitely a challenge for us. Commodity prices have not softened. We will wait and watch the situation," Wipro Consumer Care and Lighting Vice-President Anil Chugh said.
He said the company will decide based on how its rivals react to the rising input costs.
WCCLG had affected a price hike of 5-6 per cent on soaps in January this year.
On the other hand, Godrej Consumer Products Ltd, which raised prices of its soap brands in January this year, also plans for another around of hike within the next three to four months.
"We are looking at increasing the prices of soaps. It is one segment which is getting the impact of the rising commodity prices. We will raise the price in the next three to four months," said GCPL Managing Director A Mahendran.