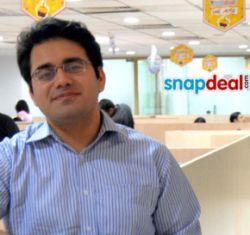 E-commerce company Snapdeal expects its furniture segment to reach a gross merchandise value (GMV) of Rs 1,000 crore (Rs 100 billion) by the end of this year, up from Rs 150 crore (Rs 15 billion) in 2014.
The category had clocked eight-fold growth last year.
Snapdeal launched the segment in April-June 2013 and offers over 15,000 products in office, home, outdoor, kids and utility furniture, and 50 national and international brands.
"Over 90 per cent of the furniture industry falls in the unorganised sector. Customers have typically been buying furniture from neighbourhood stores," said Saurabh Bansal, associate vice-president for home and general merchandise at Snapdeal. "We address the desire of customers to buy a wide range of furniture with the latest national and international designs," he added.
Delhi-based Snapdeal may be looking at a total annual GMV of $9-10 billion (Rs 54,000-60,000 crore or Rs 540-600 billion) in 2015.
While several e-commerce companies do not sell furniture because of the logistics involved, Snapdeal has ramped up delivery. It accepts orders from 5,000 cities, offers exchange services in 30 and installation services in 100.
"We will invest in the supply chain. We will also increase the footprint of our installation service. We are looking to add a significant number of sellers," Bansal said. The company will invest in packaging solutions to minimise damage during delivery.
The majority of Snapdeal's furniture sales take place in Tier I cities but Tier II cities have been picking up in recent months. Its largest selling items are beds, sofas, shelves, dining tables and sofa-cum-beds.