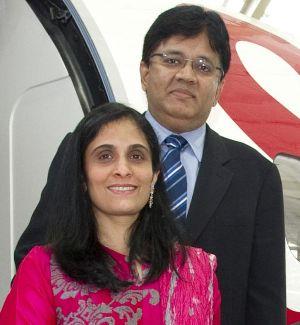 Sun TV Network was recently ranked 334th in terms of revenue and 75th in terms of profit on a list of India's top 1,000 companies for 2013-14.

But the Chennai-based broadcaster is at the top on the list of companies with the most expensive boards.

The company paid Rs 120.8 crore (Rs 1.2 billion) to its board of directors, 16.2 per cent of its consolidated net profit for FY14 and 16.9 per cent of the average profit for the past three years.

Most of this accrued to two promoters -- Kalanithi Maran and his wife Kavery Kalanithi.

Sun TV Network is followed by Hero MotoCorp (Rs 111.6 crore or Rs 1.11 billion), Larsen & Toubro (Rs 85.2 crore or Rs 852 million), Divi's Lab (Rs 63.4 crore or Rs 634 million) and Lupin (Rs 58.7 crore or Rs 587 million).

A close look at the compensation shows relatively smaller companies are far more generous in rewarding their boards.

If directors' remuneration is calculated as percentage of the net profit of the company concerned, as many as eight of the top 10 companies with most expensive boards are small- and mid-sized ones.

Their outgo was equivalent to more than five per cent of the net profit for the last financial year.

For instance, Amara Raja Batteries, an automotive battery maker, paid Rs 47 crore (Rs 470 million) to its board of directors in FY14, 12.8 per cent of its net profit for FY14 and 16.2 per cent of its average profits for the past three years.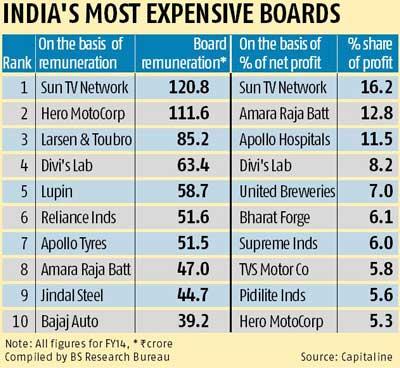 This ratio is also high for Apollo Hospitals (11.5 per cent of its FY14 net profit), Divi's Lab (8.2 per cent), United Breweries (8.2 per cent), Bharat Forge (6.1 per cent) and Supreme Industries (six per cent).

By comparison, Tata Consultancy Services, one of the country's top companies in terms of revenue and profit, spent Rs 27.6 crore (Rs 276 million) on its directors, just 0.1 per cent of its net profit for FY14.

The ratio is about one per cent for other top companies in the list, such as Hindalco (1.3 per cent of the FY14 net profit), Ultratech Cement (1.4 per cent), Bajaj Auto (1.2 per cent), Bharti Airtel (1.1 per cent) and Dr Reddy's Lab (1.5 per cent).

The analysis covers BSE 200 Index's 171 companies for which data on the compensation to the boards of directors for FY14 and FY13 are available.

The compensation includes fixed salary, performance linked-incentives, benefits & allowances, retirement benefits and commission.

The data were sourced from Capitaline.

Experts attribute the divergence to the nature of the ownership of companies.

"Promoter-driven companies are far more liberal in rewarding their executive directors, who often happen to be the owners, than companies belonging to large business houses and multinationals," says Sanjay Teli, founder and managing director of ESP Consultants.

Large corporate houses and multinational firms are board-driven and for these, the committee on board compensation decides the compensation structure for the management, after taking into account international procedures, benchmarks and competition, Teli adds.

The top earning promoter-directors in the list include B M Munjal, Pawan Munjal and Sunil Kant Munjal of Hero MotoCorp; Murali K Divi and Kiran S Divi of Divi's Lab; Deshbandhu Gupta of Lupin; Onkar S Kanwar of Apollo Tyres; and Ramchandra S Galla of Amara Raja Batteries.

Many feel this is an inevitable part of a market economy. "Ultimately, the company belongs to the promoters, as they were the ones who had taken risks and put in the initial capital.

"They should have the freedom to earn returns from their investment in a manner that suits them," says Ronesh Puri, managing director of executive search firm Executive Access.

Analysts, however, say a company's compensation policy has big implications for minority shareholders.

"If a promoter earns most of her income through equity dividends, the benefits are automatically shared by all shareholders.

"But if the promoter largely earns through salary and commission, it negatively impacts a company's earnings and share price," says G Chokkalingam, founder and chief executive of Equinomics Research & Advisory.

The impact is visible on the top companies in the list.

If Sun TV's promoters had chosen to earn an equivalent amount through dividend, the company's earnings per share in FY14 would have been higher by Rs 3 a share, while shareholders' dividend income in the same period would have been higher by about 40 per cent and market capitalisation about Rs 2,000 crore (Rs 20 billion) more, considering its current price-to-earnings ratio.

A similar impact would have been visible for other liberal payers such as Amara Raja Batteries and Divi's Lab.

Not surprisingly, a few experts are asking for guidelines on executive pay for listed companies.

"The rules are archaic and companies are free to decide their compensation structure.

"This doesn't matter in unlisted firms but in listed firms, it could lead to a conflict of interest between a promoter and minority shareholders," says Puri.
Image: Kavery Kalanithi and Kalanithi Maran; Photograph: Kind courtesy, Bombardier Aerospace