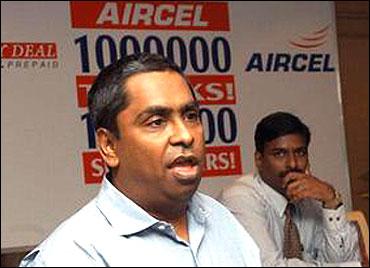 A consummate deal-maker, the former Aircel boss raked in the moolah in many, but lost a packet in several others.
Siva group chairman and serial entrepreneur C Sivasankaran is not new to controversy or his tryst with the Central Bureau of Investigation.
In 2011, Siva deposed before the agency against friend-turned-foe Dayanidhi Maran, that the latter had forced him to sell Aircel to Maxis of Malaysia before giving him license in 14 circles, when Maran was the telecom minister.
That led to a series of investigations on the Marans as well as chargesheets and allegations of a deal with Maxis, a CBI special court discharged all the accused in the case last year, after a span of six years.
Siva now faces the CBI once again, but this time he is at centrestage, with the agency registering a case against two of his companies and a clutch of banks for allegedly defaulting on loans of over Rs 6 billion.
Siva also came under the scanner just a few years ago when ousted Tata group chairman Cyrus Mistry dragged his name in various deals, which included Tatas offering him 10 per cent share in TTSL at a discounted rate and giving him management contracts for procurement services that were not in conformity with industry standards, because of his friendship with Ratan Tata.
While the Tatas denied all the allegations, Siva hit back at Mistry saying that hiring him as chairman was wrong.
However, Siva is not all about controversy. He has also been a consummate deal-maker, in many of which he made money, while others ended up as failures.
Siva started his innings in business in 1985 after he purchased Sterling Computers from Robert Amritraj, father of former tennis star Vijay Amritraj, and launched personal computers for as little as Rs 33,000 -- rival machines cost as much as Rs 80,000 in those days. Success was instant. Sterling was catapulted to the top three computer companies of India.
But it was telecom that brought Siva into the limelight, giving him reputation but also heartburn.
Siva shifted base from Chennai to New Delhi, and began operating out of a five-star hotel. In 2004, Siva won cellular telephony licences for Delhi and three other telecom circles: Uttar Pradesh (east), Haryana and Rajasthan.
But he sold them off in no time to his old acquaintance from Chennai, Shashi Ruia of Essar, for $105 million.
In 1996, he bought rapper MC Hammer's house in Fremont, California, to set up his base in the United States.
He also made a pitch to buy into Sunil Mittal's Bharti Telecom and by 1997 had over 10 per cent in the company. He then demanded a slot on its board which Mittal refused. Eventually, Siva sold the shares to Mittal at Rs 90 apiece; his acquisition cost had been Rs 100 and he admitted he had lost money.
His next business deal was when the Ruias offered him shares in Tamilnad Mercantile Bank. But the Nadar community, which owned the bank, opposed the deal. Two years later, in mid-1999, it bought out Siva's stake and he made money.
Siva also sold Dishnet DSL, the country's first internet DSL provider that he had launched in 1998, to VSNL for Rs 2.7 billion. He even wrote to Rebecca Mark, CEO of Enron India, offering to buy the troubled energy company's India business for one rupee!
Siva found it hard to stay away from telecom, which is why Aircel was born, but so were his problems. Dayanidhi Maran took over as Union telecom minister and Siva was now bombarded with queries from the department of telecommunications about his licences
An attempt to sell his Tamil Nadu business to Hutchison, to get the cash to roll out other circles, was never cleared and so in 2005 he announced he would sell the business to Maxis.
Yet, Siva was back again. With the ministry under A Raja, Siva got licences in six circles via S Tel through the first-come-first-served rule. He also roped in Batelco, which took a substantial stake for Rs 10 billion.
Yet, with the Supreme Court cancelling these licences, S Tel was stranded with about 3.6 million subscribers in five circles and had no option but to shut shop. That is when BMIC, which owned 42.7 per cent in the company, exercised the "put" option under which, in an exigency like this, Siva had to buy out its stake at the price at which it had been bought: $212 million.
Siva fought a bitter battle with BMIC, which got an order from an English high court to freeze Siva's assets worldwide. A few days later, Siva was declared bankrupt in Seychelles.
It wasn't only telecom that Siva bet on-he tried his hand at setting up health restaurants under the AIWO brand in Singapore and India, but that did not fly.
He bought coffee chain Barista but decided to sell it off in three years to Lavazza of Italy.
His next big stop was to go in for renewable energy which made him acquire WinWind in 2006, but he would soon file for bankruptcy.
In 2007, he bought 49 per cent into Sahara group's Aamby Valley project, on the condition that Sahara would buy back his shares at a pre-determined price three years later. He got Rs 16.8 billion from the sale.
In 2008, Siva bought a Norwegian company called JB Ugland Shipping for around $300 million.
An information memorandum for a private placement of debentures by Siva Ventures in June 2009 disclosed that the man had taken the 931-hectare Coetivy Island in Seychelles, 290 km south of Mahe, on a 99-year lease to develop a mega township. That is what seems to have taken Siva to that country.
For all his profitable deals, Siva left behind a trail of failed ventures.
He had tied up with Subhash Chandra of Essel to get into DTH, but the project never took off.
He had announced a $1-billion undersea cable line from Chennai to Guam but Sunil Mittal got a similar project up and running first, which ended the viability of Siva's plan. But that was business Siva style.
Photograph: Reuters.