Following is the chronology of events related to the controversial acquisition of 997.11 acres of land in Singur in 2006 to set up car manufacturing plant of Tata Motors, in which the Supreme Court on Wednesday set aside Calcutta High Court's 2008 order which had held it legal.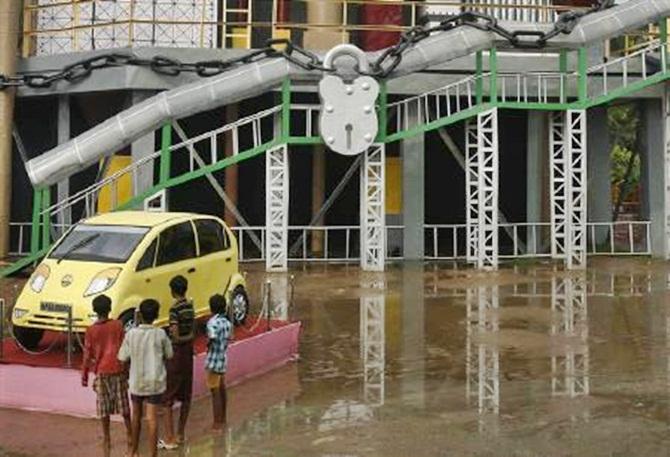 *May 18, 2006: Tatas select West Bengal for Rs 1 lakh small car Nano's plant.
*Sep 25: TMC Chief Mamata Banerjee decides to sit on dharna to protest land acquisition drive. Also calls for rail and road blockade.
*Mar 9, 2007: State government signs a 90-year agreement with Tata Motors for 'Nano' plant.
*Jun 14: State govt rules returning Singur project land to farmers.
*Jan 18, 2008: Calcutta HC orders Singur land acquisition legal.
*Feb 15: Tata announces Nano roll-out by Oct.
*May 13: Supreme Court refuses to block Nano roll-out from Singur.
*Sept 16: Mamata Banerjee holds counter rally at Singur demanding implementation of the agreement.
*Sep 24: Attack on security guards at Singur factory.
*Sep 24: Government hopes for a settlement of the Singur crisis.
*Sep 30: All-party meeting at Singur called by Chief Minister Buddhadeb Bhattacharjee at Writers' Buildings, boycotted by Trinamool Congress and some of its allies.
*Oct 1: CM says Ratan Tata to arrive to discuss Singur issue.
*Oct 3: Ratan Tata formally announces pull-out from Singur. Within days, he announces shifting plant to Gujarat.
*2011: Mamata Banerjee becomes Chief Minister, announces intent to return land to "unwilling Singur farmers". The assembly passes Singur Land and Rehabilitation Bill, 2011.
*June 22, 2012: Calcutta HC strikes down Singur Land Rehabilitation and Development Act 2011.
*2012: Mamata-led WB govt moves SC against HC order.
*July 10, 2013: SC asks Tata Motors to clear stand on its leasehold rights over the Singur land.
August 31, 2016: SC sets aside controversial acquisition of 997.11 acres of land in Singur in 2006 by the then Left Front government in West Bengal to set up Tata Motors' Nano car manufacturing plant.
Photograph: Reuters
© Copyright 2021 PTI. All rights reserved. Republication or redistribution of PTI content, including by framing or similar means, is expressly prohibited without the prior written consent.