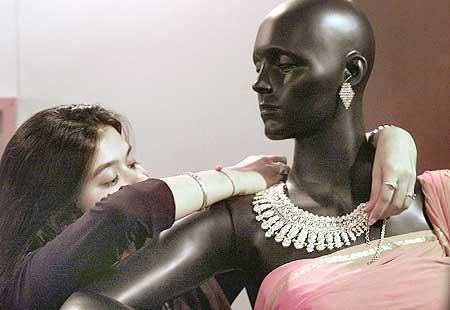 Higher global investment demand expected to keep the white metal ahead
Silver has recovered sharply to become the best performing metal in the current round of commodity price spurt.
However, investors who have not seen it go above Rs 40,000 a kg in the past 19 months should either hold or book a profit, as their buying price would have been lower.
Silver has emerged in India as an alternative to gold in the past few years, especially since import restrictions on the latter three years earlier.
In the current calendar year, it has given a 23 per cent return; gold's is 21 per cent.
However, from a medium-term perspective, it is still trading at much lower prices.
This is because 55 per cent of the demand for it is in industrial use and the slowdown in China and other parts of the world has lowered this.
Data compiled by Sudheesh Nambiath, lead analyst with GFMS Thomson Reuters, indicates import of 7,954 tonnes of silver in 2015, a rise of 16 per cent over 2014 and a third year of a record high. In the past three years, India imported 20,615 tonnes and this is 25 per cent of the total silver mined over those years.
Cameron Alexander, manager, precious metals demand, Asia–GFMS TR, said: "Recent economic data, especially from China, points to a slightly brighter outlook and a pick-up in consumer spending has raised hope of a recovery across the broad commodities sector, with silver a beneficiary.
"Investors have also recognised that silver has remain undervalued in comparison to gold."
Recent recovery in the white metal was also reflected in a falling gold to silver price ratio, the latter representing an ounce of silver that can be bought with one ounce of gold.
This has been rising continuously in recent years and on February 26 this year had peaked at a little above 83.
With recovery in overall sentiment reflected in metal prices, the ratio started moderating and fell sharply in the past two weeks, to around 73 now.
This means silver has outperformed gold.
Ajay Kedia, director, Kedia Commodities, who tracks the ratio, said: "The trend we see shows silver outperforming gold and this will continue for some time.
Which means the gold to silver ratio could come to 67 in the near future."
According to him, this means silver might see a price of $18.5 an ounce; in India, Rs 43,500-44,000 a kg.
For silver price movements, what is crucial would be how the two major components of demand, industrial use and investments, performs.
Cameron said, "Despite some more bullish economic data out of China, we still expect industrial demand for silver to remain under pressure this year, with falls in several key segments.
Other key industrial markets such as Japan and Europe remain moribund by weak economies.
So, fundamentally, from a demand perspective, we are not expecting a rebound in demand.
It is more likely that further gains in price will be driven by the investment sector in the coming weeks.
Central to this will be oil prices and, of course, the monitory policy issue in the US."
Indians have been accumulating silver over the past few years as a proxy for gold, because of the lower price and restrictions on gold import.
Now, since gold is under the glare of policy makers who have put in place plans to mobilise idle stocks in the country and bring it for productive use, Indian investors focus on silver has sharpened.
A survey by the Washington-based The Silver Institute, a 45-year body representing all industry stakeholders of silver and jewellery retailers across the globe, has thrown up an interesting result.
Margins in silver jewellery are the highest at 45 per cent compared to all other jewellery, including in diamonds.
On price, "87 per cent of respondents said they are optimistic that the current silver boom will continue for the next several years; 46 per cent said they were very optimistic", according to the survey.
Image: An attendant decorates a mannequin with silver jewellery. Photograph: Arko Datta/Reuters