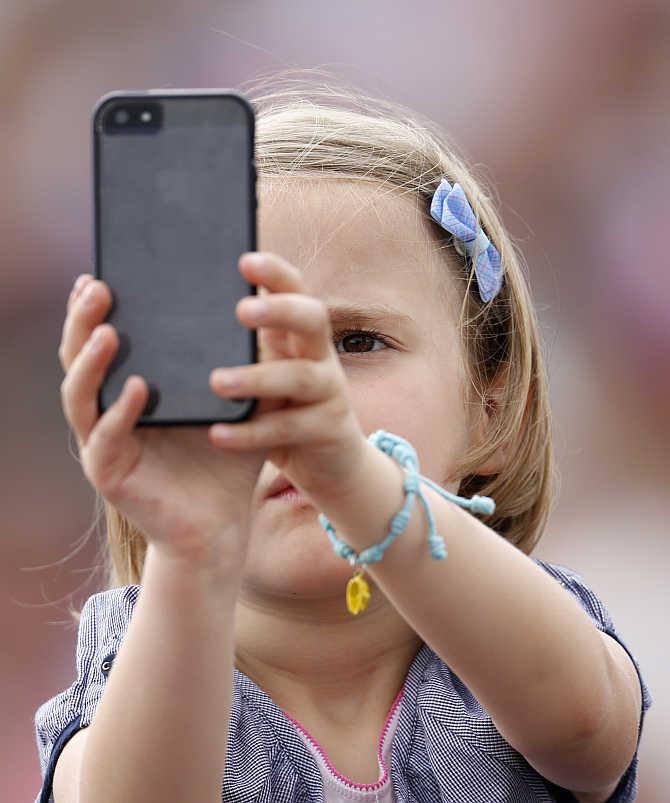 Since Silicon Valley's transportation tech start-up Uber Technologies launched its Uber Black service in India last October, its travel across the country's cluttered metroscape has been smooth so far.
Uber connects riders with drivers through its apps.
Tap the Uber smartphone app to share your GPS coordinates in Delhi, Mumbai, Chennai, Bangalore or Hyderabad and a luxury sedan, such as a Mercedes Benz or a BMW, finds its way to you in 15 minutes flat, or less.
Just jump in and hop out when the ride ends; Uber will charge your credit card and email you the bill.
The service offers a luxury car on demand for Rs 25 a km, plus Rs 2 a minute over a base fare of Rs 90 per ride. The budget UberX service, with cars like the Suzuki Swift DZire, costs Rs 15 a km and Rs 2 a minute over a base fare of Rs 50.
Uber keeps 20 per cent of the ride tariff as commission, while the car provider pockets the rest.
"Uber doesn't own any car," says Allen Penn, head of Uber's Asia operations. "We are only connecting users with licensed transport providers." The elegance of this model has won the company an eye-popping $18.2-billion valuation, even as it has deflected all queries about its operations and profitability.
Yet, the India operation offers an insight into the potential and pitfalls of the Uber model. The Indian taxi market is is valued at $6-9 billion, of which only six per cent is organised, according to industry figures. In Delhi, for instance, almost 30 per cent of calls are dropped by radio taxi companies due to unavailability of vehicles, according to the India Radio Taxi Services Market Forecast 2017, suggesting a significant opportunity for companies like Uber.
Penn did not provide any information on the number of Uber-connected taxis in India, customers, rides, average ride times or company revenue, except saying the average wait-time for an Uber taxi is eight minutes in Bangalore, nine minutes in Mumbai, and 12 minutes in Delhi.
These numbers apply for instances when a car is available, which is not all the time. The company's aim is to lower the cost of the service to the point where commuting via Uber is as cheap as - and more convenient than - owning a car.
For this, the company plans to turn people's private cars into part-time UberX taxis by allowing car owners to log on to the system, pick up passengers for a fee, and log out when they have other things to do.
This will increase the supply of taxis and drive down costs. At present, registered taxis account for only two per cent of Delhi's 2.4 million cars; the rest are privately owned and ripe for "Uberisation".
Uber and competitors like Lyft have tried this in some US cities, but regulations in India mandate a commercial driver's licence and commercial licence plate, besides other permits, to operate a taxi. Manish Garg, additional commissioner for the Delhi Transport Department's taxi division, says while he sees no problem with an app helping commuters and cars find each other, the law is clear on the prohibition on using private vehicles as taxis.
To bring cars into the market in India, Uber has, in many instances, dispensed with the much-touted 80-20 model in favour of renting car fleets on fixed daily rates, on the condition that drivers accept all rides coming their way.
This implies the disruptions to the Indian market might be less drastic than previously assumed. "The commission model only works for a self-driven mid-sized car, not for a luxury car with a salaried driver," says a car provider who does not wish to be named.
"For me, Uber is just another client who has rented my car and driver for a fixed fee."
Interviews with drivers and fleet owners show they factored in at least one hour to reach a passenger, drop her to her destination and then reach the next passenger.
More realistically, drivers and car owners say they are doing between eight and 10 trips over a 24-hour period, for an average Rs 350, less deductions for fuel, monthly payments for the car and maintenance costs.
However, very few taxi drivers in Delhi own their cars. "I have tried to buy a taxi on many occasions but I don't have the right paper work, tax returns or address proof to get a loan," says a driver working for Ola Cabs, Uber's rival.
Instead, he works for a small operator who rents the car out as a day taxi and gives the car over to Ola on days he doesn't have business.
Gurudev Singh Ahluwalia, who earned a post-graduate degree from the London School of Economics before returning home to inherit the Karachi Taxi Company, which owns a 70-year-old taxi stand at Janpath in Connaught Place, initially tried the commission model for his Toyota Camry cars but gave up in a month.
"We were one of the first to tie up with Uber in November. But their rates were too low," says Ahluwalia.
"Their market is different. They do pick up and drop; they don't wait. They are not a transport manager." Setting aside a Camry or a Mercedes S Class for just two or three trips a day, he says, means Rs 2,200-2,400 per day per car where fuel costs are Rs 1,000 a day.
A Toyota Camry costs Rs 24 lakh for a base model, while a new Mercedes Benz could cost up to Rs 1 crore. Ahluwalia would rather keep his luxury cars under his control, in case an order comes up for a wedding party or corporate travel where the Camry makes Rs 5,000 a day.
Penn, the Uber representative, would not comment on operational matters, but he says the company uses different models in different cities "to bring out drivers before the market is ready". Neeraj Gupta, who founded Meru Cabs in 2007, says most taxi fleet owners want an assured business in terms of number of trips to allow a driver to take home Rs 12,000-15,000 a month.
Would Uber be able to generate enough supply of business to allow a taxi owner to make five trips a day, he asks.
Tellingly, all of India's radio taxi companies are yet to turn profitable, though Meru Cabs is expected to post a profit this year.
With Uber dipping into its generous war chest to subsidise its service, its pampered clientele should sit back and enjoy the ride.