Union Minister for Heavy Industries and Public Enterprises Praful Patel on Friday said his ministry was preparing a list for outright sale of sick and closed PSUs that have no potential for turnaround.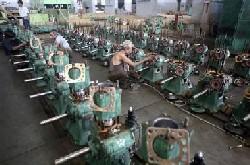 "We had already held discussions in this regard with the Planning Commission as well as the Ministry of Finance. The government has been spending about Rs 1,500 crore (Rs 15 billion) on annual wages in respect of these companies and this is not a very healthy situation," he told the media after visiting Bharat Heavy Electricals Limited (BHEL).

This exercise was in no way connected to the proposed divestment in public sector companies, he clarified.

Without giving the exact number or the names of units to be put on the block, Patel said companies like Scooters India needed to be relooked at.

On when this process was expected to become a reality, he said, "I am not someone who says something today and do it next year."

The minister said power equipment major BHEL would be the first in line to get the Maharatna status when the relaxed guidelines come out, which is likely to be in June this year.

"Manufacturing companies such as BHEL do not have the advantage of a steep rise in revenues as oil companies. BHEL has an order book worth Rs 1.75 lakh crore and reported a net profit of Rs 6,100 crore (Rs 61 billion) this year, which justify the Maharatna status. It will anyway reach the required parameters next year," the minister said.

The minister said Maharatna status would allow companies to go for international acquisitions and they could also take decision on a capital expenditure plan of up to Rs 5,000 crore (Rs 50 billion) on their own.

"Relaxation of the present guidelines is necessary because GAIL is already planning to acquire shale gas reserves overseas," Patel said.

The minister also stressed the need for having a succession plan in PSUs at least for a three-year horizon and said his ministry was coming up with a comprehensive plan soon.

Indiscriminate imports from China

Patel strongly called for a tariff regime to contain indiscriminate imports of Chinese power plant equipment in the 12th Five Year Plan.

"The situation that we faced in the 11th Plan period no more exists to justify indiscriminate import of power plant equipment from China.

Today, the country has reached adequate levels of capacity as BHEL is set to increase its manufacturing capacity to 20,000 Mw by next year while several other private sector players are also entering the power plant equipment space," the minister said.

However, the ministry is not seeking a blanket ban on imports of such equipment, as companies have to cope up competition to a certain level, he said.