Human Resource Development Minister Kapil Sibal has suggested to petroleum ministry to continue providing LPG cylinders at subsidised rate for the midday meal programme this fiscal amid concerns that the scheme could be hit by the cap on cooking gas.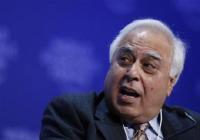 Noting that the cap on LPG for the midday meal at this stage would burden the Centre to compensate the states for the increased cooking fuel cost, he has suggested the decision on whether to make an exception for the scheme could be revisited at the time of finalising the 2013-14 budget.

"It might be preferable at this point to provide for subsidy as earlier for LPG cylinders, instead of seeking approval for an increase in cooking cost which would necessitate revisiting allocation for the mid-day
meal scheme and seeking parliamentary approvals for the increased allocation," Sibal said in a letter to Petroleum Minister S Jaipal Reddy.
Sibal, who had earlier spoken to Reddy on the issue, had expressed the hope that the issue would be "certainly" resolved.
Either the finance minister has to "give us additional funding to run the scheme or the petroleum minister continues to provide subsidised cylinder for the programme", he had told reporters.
Sibal, in his letter, has said if the subsidy available to the scheme was being withdrawn, "the government would have to bear the expenses on fuel cost in the form of subsidy for LPG cylinders or in the form of compensation for the increased cooking cost".