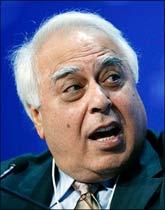 As professors of Indian Institutes of Technology resorted to the unprecedented step of day-long hunger strike on Thursday over the salary issue, HRD Minister Kapil Sibal said he is open to having any kind of dialogue with them to discuss their demands, but ruled out world-class salaries due to lack of resources.
"We will be too happy to discuss anything. I am ready to give them any autonomy they want," Sibal told PTI in an interview when asked to comment on the strike undertaken by around 1,500 teachers of the premier educational institutes.
He contended that he believed in dialogue but made it clear that he was upset by the 'ultimatum' of October 1 set by the protesting faculty to address their grievances.
Sibal said the government would not interfere in the affairs of IITs but that too much of luxury in terms of salaries would not be allowed.
India has to work under 'some constraints' and it cannot afford the same kind of freedom or salaries which other developed countries like the United States can afford, the minister said.
"America is a $15-trillion economy with 280 million people. It can afford to have the kind of quality private universities it has and give kind of freedom, money, salary that is given there.
"But if you look at my budget, it is insufficient to meet the needs of a knowledge society. We must understand each other, the constraints of the government. We need to get together to work the system out," he said.
The IIT teachers across the country are demanding withdrawal of 40 per cent cap for the promotion of professors and abolition of contractual postings at entry stage.
Justifying the cap, Sibal said it was an incentive and it will not remain so if the benefits are extended to all.
He disapproved of the IIT teachers' ultimatum to government to address their demands by October 1.
"The government cannot be told that I am going on hunger strike or I am going to give you time till October one then I will decide what I will do," he said, while noting that he was the first to reach out to IIT Directors on the issue.
"They (faculty) need to look at themselves. I will be too happy to discuss anything," he said.
Sibal said as a 'funder' of IITs, the government was responsible for maintaining good standards of education.
If the IITs can financially become more independent, they can be given freedom to decide their salaries and other matters, the HRD minister said.
He disagreed with the contention of IIT faculty that there will be shortage of teaching staff in the prestigious institutes due to rigid hiring process, saying, "There is no official data to suggest that."
Official sources have maintained that there was near zero attrition rate in the IITs.
Sibal was also not agreeable to the IIT faculty's demand for abolition of contractual hiring process at entry level, suggesting that it could compromise with the quality of teachers taken in.
"They want to hire PhDs straightway in the faculty. But if you do that and if the man is not found suitable then what will happen," he asked.
To maintain standards of the faculty, the minister suggested that a teacher to be recruited by an IIT should have teaching experience and he should be put on contract for three years before being confirmed.
"You have to have contractual system wherein you can assess them," he emphasised.
Meanwhile, for the first time ever, around 1,500 teachers of IITs across the country went on a hunger strike on the issue of pay structure but did not boycott classes.
The All India IIT Faculty Federation went on the strike after their charter of demands, including withdrawal of 40 per cent cap on promotion of professors to senior grade, did not elicit response from the HRD ministry.
The teachers of the elite institutes went ahead with the protest as HRD Minister Kapil Sibal rejected the demands of the faculty for withdrawal of 40 per cent cap on promotion of professors to senior grade.
"We had asked for a meeting with the HRD ministry representatives on the issue. But there is no response. Hence, we went on with the agitation," Federation president Prof M Thenmozi of IIT-Madras told PTI.