Maharajas' Express, the country's first pan-India super-luxury train, in which a tourist has to shell out more than Rs 100,000 per day, is all set to be flagged off from Mumbai next year.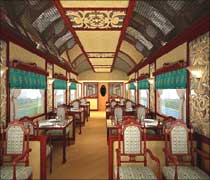 The luxury train with 23 AC coaches will start its seven-day and six-night maiden journey, carrying 88 tourists to Delhi, covering Vadodara, Udaipur, Jodhpur, Bikaner, Jaipur, Ranthambore and Agra on the way from CST station on January 9.
Equipped with state-of-the-art facilities, the train will return to Mumbai via the same route from Delhi on January 17.
While the minimum rate is being kept at $800, the maximum is $2500 per day, per person in the Maharajas' Express. All coaches of the train will have an individual temperature control system and environment-friendly toilet, a first in a luxury train. Besides, live TV, internet, in-house movies and direct dialling facilities are being provided in the train.
The bookings for the inaugural run from Delhi and Mumbai are overwhelming, a senior IRCTC official said, adding "the trial run of the train will be held in December."
There are four different categories of carriages in the train - presidential suite ($2500), suite ($1400) deluxe cabin ($900) and junior suite ($800).
A joint venture between IRCTC and Cox & Kings, the super-luxury Maharajas' Express will travel Delhi-Mumbai-Delhi and Delhi-Kolkata-Delhi. The Delhi-Kolkata route will cover Agra, Gwalior, Khajuraho, Bandhavgarh, Varanasi and Gaya.
Tourists on both routes - Kolkata and Mumbai - may also have the opportunity to have a glimpse of tigers in forests. While Ranthambore falls on the Mumbai-Delhi-Mumbai route, Bandhavgarh national park is on the Delhi-Kolkata-Delhi segment.
"Maharajas' Express Kolkata journey is likely to be be in the last week of January or first week of February next year. The train will also return to Delhi on the same route," said the official.
There will be two restaurants - Haveli and Peacock - and a bar named Machan inside the train. "We have given the onboard hospitality service to a leading hotel group, so that five-star catering is maintained in the train," he said.
The trip from the western metropolis to the national capital will be christened as a "Princely India journey", while the return journey will be called "Royal India tour".
The Delhi-Kolkata route will be named the "Classical India journey", while the Kolkata-Delhi trip will be the "Celestial India tour".
The train will be operational from October to March and the rest of the year it will be used for chartered service, said the official.
Image: An artist's impression of the pantry car.