According to property experts, this is the biggest plan by any developer at the moment.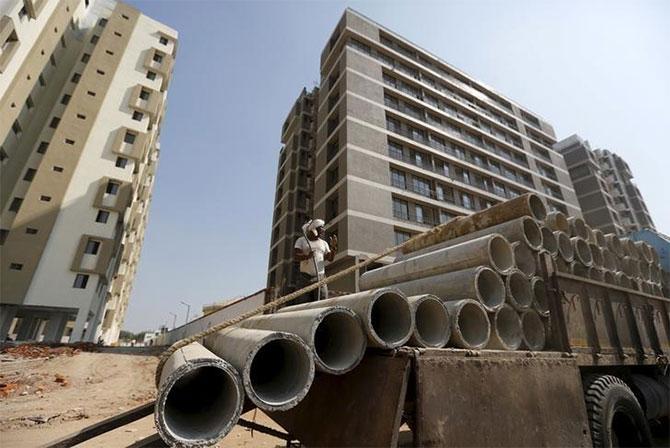 Construction giant Shapoorji Pallonji is betting big on residential real estate, despite a prolonged slowdown in the sector, to tap the demand for quality homes.
Shapoorji Pallonji Real Estate, the property development arm of the Shapoorji Pallonji group and its joint ventures, is planning to launch a dozen residential projects, covering a total area of about 13 million square feet (sq ft), over the next 18 months, a senior executive of the company said.
According to property experts, this is the biggest plan by any developer at the moment.
In comparison, DLF, the country's largest developer, is looking to launch just a single project in the financial year 2017-18.
It launched no project in FY 2017 and focused on completing the existing ones. However, in Mumbai, developers such as Piramal, Godrej, Lodha and Peninsula have launched new projects in the last couple of months.
Shapoorji Pallonji develops mid-income housing projects under the Joyville brand, mid to high-end properties under Shapoorji Pallonji Real Estate, and redevelopment projects under SD Corp.
"Currently, sales are 70 to 75 per cent of pre-demonetisation levels. We have a balanced portfolio, from mid to luxury housing, and known for quality and timely delivery. And, customers like that," Venkatesh Gopalakrishnan, chief investment officer at Shapoorji Pallonji Real Estate who is set to take over as chief executive officer of the company from April 1, told Business Standard.
The company would add two projects each in Mumbai and Pune and one in the national capital region (NCR) over the next 18 months, which would constitute five to six million sq ft of space, Gopalakrishnan said.
Joyville, which is a mid-income housing joint venture between Shapoorji, Standard Chartered Private Equity, IFC and ADB, is looking to add five to six million sq ft and already in the process of acquiring land, he said, adding the venture would launch at least three projects of 1,500 units.
The company is looking to launch projects in Chennai, Hyderabad and Bengaluru in the south, and Gurgaon and Noida in the north, he said.
SD Corp, the joint venture between Shapoorji and Dilip Thacker, is also looking to launch a couple of projects in Mumbai and its suburb, Kandivali.
The joint venture plans to launch projects, with a total of 1.5 million sq ft, over the next 12-18 months, said Rajendra Joshi, chief executive officer of SD Corp.
Property consultants agree that good brands are selling even in sluggish markets.
Santhosh Kumar, chief executive - operations & international director, JLL India, said: "Shapoorji Pallonji is a well-known name in the field of real estate. In today's time when the developer brand, reputation, delivery track record are becoming increasingly important considerations for homebuyers, well-known developers are finding more resonance with their residential projects," Kumar said.
Gopalakrishnan said among the group's real estate portfolio, a third would consist of Joyville, half would be those by SP Real Estate and the remaining by SD Corp. "Pipeline and acquisitions are fashioned in this manner," he said.
When asked about the perils of going national, he said they know geographies well due to their businesses and going in calibrated fashion. "We are going to eight cities and will then scale up gradually," he said.
Photograph: Amit Dave/Reuters