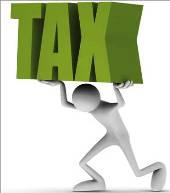 Suspecting large scale service tax evasion, financial intelligence agencies are carrying out massive searches against various real estate firms across the country.

The on-going search operation started a fortnight back in which the evasion by firms providing real estate services, including renting and other collaborations was detected, official sources said.

The Central Economic Intelligence Bureau, a nodal agency for collection and dissemination of intelligence related to financial sector, and Directorate General of Central Excise Intelligence found inputs on alleged service tax evasion, the sources said.

The sleuths have searched various real estate firms and builders offices in the national capital and in suburban areas, including Noida, Ghaziabad, Bhiwadi, Mumbai, Hyderabad, Kolkata,
Vishakhapatnam and Chennai among others, they said.
The real estate firms are required to pay 12.5 per cent service tax.
Many of the deals mainly related to renting of land, house or any other commercial properties evade tax net as the money transactions are not recorded in government documents and taken directly and illegally, they said.
A Finance Ministry report has said that land and real estate are possibly the most important class of assets used for investment of black money.
"As immovable properties are not usually comparable, valuations are different.
"This imparts flexibility to the valuation process, and makes it an ideal investment for black money.
"Both 'black' and 'white' savings are utilised for investment in land and real estate, which provides hedge against inflation apart from a profitable alternative for investment for black savings," it has said.