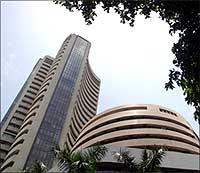 Tuesday's dismal market performance was made up for today, as the bourses gained steadily, encouraged by positive global cues.

During the afternoon trades, the Sensex touched its intra-day high of  18,444, while the Nifty scaled 5,535.

However, at close, the markets pared some of their gains, but still advanced 1% each.

The Sensex closed at 18,359 up 191 points, while the Nifty ended up 62 points at 5,511.

Both the benchmark indices opened at their lows this morning, although both were trading positive; the Sensex opened at 18,264, while the Nifty opened at 5,476.

Since the opening trades, the markets moved in a positive range, buoyed by a 5.7% rebound in Tokyo stocks, after a particularly shaky day on Tuesday, when the Nikkei closed down 11%, its lowest ever drop in 40 years.

Analysts said that the markets, in general, understood Japanese shares were oversold, but uncertainty over the Fukushima nuclear plant, which is on the brink of a meltdown, made market participants nervous.

They also maintained Tuesday's stock tumble was because of increased panick, and that the fall could not be attributed to fundamentals.

Several Tokyo shares gained on short-covering by hedge funds, and Asian markets received a boost from US stocks, which closed off the day's lows after assurances from the Federal Reserve that it would continue with its lose monetary policy to limit Japan-related losses, and to continue with the economy's growth traction.

Gainers on the Sensex were led by ADAG stock Reliance Infra, which moved up 5% at Rs 645, followed by banking heavyweights SBI at Rs 2,643 and ICICI Bank at Rs 1,027, both up 3%.

ICICI Bank accounted for nearly 25% of the gains lodged on the Sensex, with the stock adding 43 points to the benchmark, followed by another banking stock SBI, which added 28 points to the total gain on the Sensex.

Losers on the benchmark were FMCG major Hindustan Unilever at Rs 271 down 1%, on lower advance tax payments for Q3FY11 as compared to the year ago period, while Hindalco Industries at Rs 203 and Cipla at Rs 296 were down 0.6% and 0.5% respectively.

The broader indices outperformed the benchmark, albeit marginally, with the Mid-cap touching 6,556 up 1.4%, and the Small-cap at 7,890 up 1.3%.

Mid-cap gainers were JM Financial at Rs 25 up 17%, Shree Global Tradefin at Rs 240 up 15% and Parsvnath Developers at Rs 38 up 11%.

Kolte Patil at Rs 47, IFB Industries at Rs 139 and Fame India at Rs 48 hit the upper circuit on the Small-cap index in closing trades, as all the stocks notched up handsome 20% gains.