Focus on premiumisation, value-added products, cost optimisation and digital acceleration have been the common themes running across business segments in the past two or three years that have helped in margin improvement.
Ishita Ayan Dutt reports.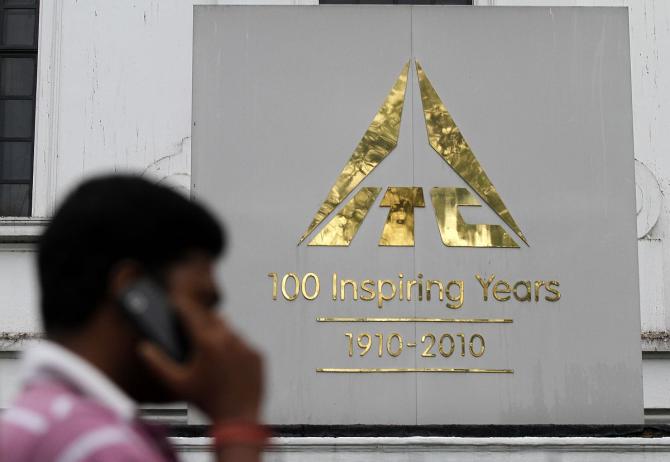 A hotel in 1975, entry into paperboards in 1979, India's dominant cigarette maker, ITC, read the tea — or tobacco — leaves early, leveraged its enterprise strengths and stepped up the diversification agenda to create multiple drivers of growth.
Some failed, some faltered, some were transformational, adding steadily to the top line.
Now those efforts are making a difference: margins from non-cigarettes — FMCG, hotels, agri, paperboards, paper and packaging — are expanding and profits are kicking in more significantly than ever before.
To be sure, cigarettes still account for 36.59 per cent of revenues and 75.42 per cent of profit (9MFY23).
But the non-cigarette business is showing promise now.
The share of non-cigarettes in profits before interest and tax (PBIT) at a consolidated level grew from 17.43 per cent in FY21 to 21.27 per cent in FY22 and 24.58 per cent in the nine months of FY23, with the best showing in Q3 of the current financial year at 25.95 per cent.
Revenues from non-cigarettes have been increasing for a long time now and stand at about 63.41 per cent (9MFY23).
But it's the improvement in profitability led by structural interventions that's reassuring investors.
What made it possible?
It's a combination of factors.
Focus on premiumisation, value-added products, cost optimisation and digital acceleration have been the common themes running across business segments in the past two or three years that have helped in margin improvement.
Plus, investments in manufacturing — the large Integrated Consumer Goods Manufacturing and Logistics (ICMLs) and paperboard capacity — are paying off.
There are 10 ICMLs that are proximal to large demand centres.
These have laid a strong foundation to drive structural advantages such as ensuring product freshness, enhancing agility and responsiveness of the supply chain, reducing cost of servicing proximal markets through lower distance-to-market, company sources said.
And it's showing in FMCG EBITDA margins that are at its highest at around 10 per cent.
Among ITC's many diversifications, it's the non-cigarettes FMCG that investors and the company are gung-ho about — an addressable market size of about Rs 5 trillion leaves a lot of headroom for growth.
The segment accounts for the biggest chunk in non-cigarette revenues at 35.35 per cent (9MFY23).
The most significant contributor to non-cigarette profits is paperboards at 40.6 per cent.
"There was a significant increase in pulp and paper prices this year because of the Russia-Ukraine war. But due to backward integration, ITC got a big benefit and margins increased to 26-27 per cent from the usual 21-22 per cent," Amnish Aggarwal, director-research, Prabhudas Lilladhar, said.
Various initiatives for digitalisation and implementation of Industry 4.0 technologies in the paper segment also helped improve margins (during FY22, the margin expansion was approximately 270 bps), according to company sources.
But ITC's strong run currently is not restricted to a single segment — all businesses are on a high.
Tourism has taken off with a vengeance after being cooped up during the Covid-19 pandemic and hotels are reaping the benefits with RevPAR (revenue per available room) ahead of pre-pandemic levels.
But for the clampdown on wheat exports by the government, the growth in the agri-business would have been much faster.
"The non-cigarettes business was growing at a healthy pace and was profitable earlier also.
"However, FY23 has seen a sharp improvement due to margin expansion in paper, strong growth in agri and structural recovery in hotels business," Aggarwal said.
But, he added, the biggest business of cigarettes has also seen volumes grow: they may end the year with close to all-time high volumes.
Cigarette volumes for ITC — a market leader in the segment with 75 per cent share — registered strong double-digit year-on-year (YoY) growth in the recent quarters and three-year and four-year average volume growth have been in mid-single digits, a Motilal Oswal report said.
"This has been the best growth level in over a decade and far superior to the flattish volumes of the past 10 to 20 years."
A relatively stable tax environment and action from enforcement agencies have helped the legal industry to claw back from the illicit trade, which accounts for about a fourth of the cigarette industry in India.
And the 16 per cent hike in National Calamity Contingent Duty (NCCD) announced in the Budget is expected to have a nominal overall effect, according to analysts.
The NCCD is a surcharge and a type of excise duty that can be levied independently of the excise duty.
But the spectre of a tax hike in cigarettes always looms large.
"Cigarettes are very attractive in the short and medium term, but a bit challenging from a long-term perspective — it's not a big volume growth in most countries.
"But in India, per capita consumption of cigarettes is quite low and one-fourth of industry is illicit, so there is better opportunity in India," Abneesh Roy, executive director and head of research committee, Nuvama Institutional Equities, said.
ITC knew the challenges in cigarettes and diversified. Hotels and paperboards were the early ones.
The entry into FMCG in the early part of 2000 is relatively new.
But most of the growth from non-cigarettes has come about in the last two decades.
Between January 2001 and December 2022, 17 new owned hotel properties have been added, taking the total to 119 properties with over 11,350 keys (ITC adopted an asset-light model some years back and the ratio of owned to managed is 50:50; the plan is to double capacity in three or five years through management contract); capacity in paperboards was added in the last 3-4 years and in FMCG, the SKUs have gone from 100 in 2001-02 to 2,100 in FY22.
About 10 categories have been added in FMCG over the last decade and there are six Rs 1,000-crore brands in terms of consumer spend (Aashirvaad is over Rs 7,000 crore and Sunfeast Rs 4,500 crore).
"In non-cigarettes, FMCG holds huge potential, especially foods.
"With ITC's strong agri-sourcing, it has a right to win in the space.
"We expect 50-100-bps margin expansion to continue on a yearly basis as it catches up with competition," Roy said, adding that the non-cigarettes segment was on the right trajectory.
Analysts expect ITC's current performance to continue through FY24.
Will the share of non-cigarettes in profits increase further?
Time will tell.
Right now, it's planning season at ITC and the brass is focused on setting "strong" growth targets for each business.