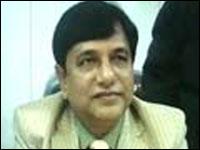 Market regulator Sebi on Tuesday ordered Kolkata-based Saradha Realty India to close all its collective schemes and refund the money collected from investors within three months, amid continuing protests against the alleged fraudulent activities of the group.
In a late night 12-page order, the capital market regulator also barred Saradha Realty India and its Managing Director Sudipto Sen from the securities markets till the time it winds up all its collective investment schemes and refunds the entire money to investors.
Investors and agents of various investment schemes launched by Saradha group in West Bengal have been protesting for many past days.
Meanwhile, Sen was arrested on Tuesday in J&K.
Sebi said it would initiate proceedings against Saradha Realty and its directors if the company fails to wind up its CIS schemes and refund the investors.
The regulator also warned of launching a criminal case for "fraud, cheating, criminal breach of trust and misappropriation of public funds" and initiation of winding up of the entire company through a reference to the Ministry of Corporate Affairs, if its orders are not complied within three months.
Sources said investigations are on by Sebi against some other entities of Saradha group for similar violations of its CIS regulations.
The Sebi order against Saradha Realty follows an investigation launched about three years ago by it after a reference was received from the Director Economic Offences Investigation Cell, Government of West Bengal in April 2010.
Sebi found that the company was collecting money from public in the range of Rs 10,000 to Rs 100,000 for 15 months to 120 months, with a promise of returns of 12-24 per cent.
The investors were being offered the option of getting land or flat allotment in lieu of their investments.
Despite repeated queries, the company denied running any fraudulent scheme, but Sebi after its investigations pronounced the company guilty of running a Collective Investment Scheme without required approvals and in violation to its CIS regulations.
In the course of probe, Sebi issued repeated show cause notices to the company, but it could not get a satisfactory reply and decided to take action.
In December, the company even delivered 28 cartons of documents to Sebi, but they were returned to it and Sebi asked the company to avoid "furnishing irrelevant and extraneous documents and furnish only the required information".
However, the company continued to avoid furnishing the required documents and later went on to claim "fraud by its brokers in creating false and dummy (investor) codes..."
The matter has snowballed into a political controversy with various parties in West Bengal blaming each other for not taking enough steps to check the fraudulent schemes of the group.
Saradha Realty's name figured in a list of companies presented by Corporate Affairs Minister Sachin Pilot in the Lok Sabha last month against whom complaints of fraudulent fund raising activities have been received by the ministry.
There were few more Saradha group companies in that list.
During the Sebi inquiry, the noticee had submitted that it had properties mostly in the states of West Bengal and Assam, but it neither provided any details regarding the total quantity and valuation of its land bank nor was that mentioned in the annual statements of accounts.
"It was prima facie observed that under the scheme of the noticee the real objective is to mobilise fund from public by showing some real estate projects to the investors and the noticee indirectly promises return of funds with high interest rates," the order noted.
Sebi said Saradha Realty "launched/sponsored/operated" the collective investment schemes without obtaining registration from the market regulator.
Following that, Sebi issued a show cause notice seeking explanation from Saradha Realty asking it as to why suitable action should not be initiated against it for violation of rules.
Saradha Realty in a letter on April 1, 2013, denied that it is running any collective investment scheme and that the sales promotion activity the noticee is governed by the Contract Act, Specific Relief Act and Sales of Goods Act.
Contending that it is receiving money by way of sales and bookings advance with the help of brokers, the company had claimed that its brokers had adopted fraudulent practices and created false and dummy codes and generated false money receipts without any authorised signature.
According to Sebi, the firm also submitted that the data is stored in servers at Boston, USA and is under the control of the staff members and brokers. It also claimed that it is unable to locate the actual investors and identify the money due to the acts of unscrupulous staff members and brokers.
Image: MD Sudipto Sen