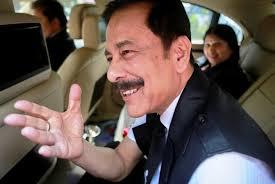 Market regulator Sebi has not spent any amount towards its own expenses from Rs 5,120 crore (Rs 51.2 billion) of investors' money received from Sahara Group, Parliament was informed on Tuesday.

In a written reply to Rajya Sabha, Minister of State for Finance Namo Narain Meena said, "Sebi has not spent spent any amount out of the Rs 5,120 crore of investors money received from the Saharas towards its own expenses."

He said this in a reply to a query by Samajwadi Party member of Parliament Naresh Agarwal.

The case related to two Sahara Group firms -- Sahara Housing Investment Corporation Ltd and Sahara India Real Estate Corp Ltd -- raising more than Rs 24,000 crore (Rs 240 billion) from an estimated 3 crore (30 million) investors through issuance of certain bonds between 2008-2009.

The Securities and Exchange Board of India, however, charged them with having raised these funds through 'various illegalities' and restrained them in November 2010 from mobilising further funds.

Subsequently, Sebi ordered refund of money through an order passed in June 2011.

The matter later reached the Supreme Court, which passed an order on August 31, 2012 asking Sahara firms to deposit the money with Sebi for refund of investors' money.

Sebi is believed to have incurred huge costs, including initial expenses of about Rs 56 crore (Rs 560 million) for putting in place storage, scanning and repayment systems, for the task of facilitating Rs 24,000-crore refund to bondholders of two Sahara firms after verifying their credentials, for which Sahara has to clear the bills.
Image: Sahara chief Subrata Roy; Photograph: Reuters