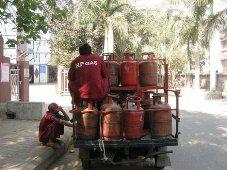 A week before the Cabinet takes a call on the mode for transfer of subsidy on cooking gas cylinders to households, Petroleum Minister M Veerappa Moily spoke to Business Standard about the nitty-gritty.

Edited Excerpts:

Is the government prepared for the Direct Benefits Transfer scheme for cooking gas subsidy disbursal?

We have the database of customers.

So, we have no problem on a technical level.

We are going to supply that to banks and to the unique identification authority at the district level.

The plan is to implement DBT in 20 districts from May 15.

By October 15, we should implement transfer of subsidy through DBT across the country.

This is our ambition and aspiration.

We discussed this at a meeting headed by the prime minister and I also spoke to the finance minister.

The decision will be up for Cabinet clearance.

There are issues of banking penetration and Aadhaar cards. How will you deal with these?

We have already prepared a Cabinet note and every minister will be involved in that.

I want to do the procedural formalities in a time-bound manner.

Banks, ministries and marketing companies, all should unite and find a solution.

Even if you don't have an Aadhaar, there is the National Population Register; that can be used.

Moreover, consumers will be given enough time to get Aadhaar and link those
with accounts.
Have you set any threshold for the penetration level of Aadhaar and bank accounts? On the subsidy front, what would be your advantage?
Once it comes to 60 per cent of Aadhaar and banking penetration, the rest of the things will fall in place.
By the time we launch, it should be within that 60 per cent range. It is the threshold that we are looking at.
Steps like capping on LPG cylinders are helping us. In fact, a lot of fake consumers are deleted from the subsidy chain.
Through Direct Benefits Transfer alone, we will be able to save Rs 7,500-8,000 crore (Rs 75-80 billion) on subsidy.
The cylinder will be available at the market rate, with the subsidy linked to bank accounts.
Do you think once diesel (pricing) is market-driven and there is a certain category of people or industry which requires subsidy, DBT should be tried there, too?
DBT will only be for LPG at present. As far as subsidising a certain category of diesel consumers is concerned, we are not thinking on those lines currently.
Will licences for marketing LPG be issued to private players?
If they want, they can come.
Since there is a subsidy scheme, private players are not too keen. We haven't applied our mind into this.
Last week, you had discussed about offering LPG distributorships to victims of 'heinous crimes' and terror attacks. What is the status on this?
We have done a series of meetings in this regard. Details are being worked out.