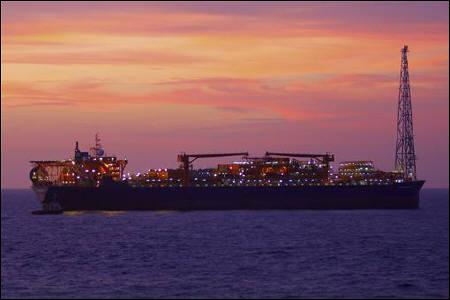 The Supreme Court on Wednesday agreed to hear a plea seeking stay on arbitration proceedings on a dispute between Mukesh Ambani-led Reliance Industries Ltd (RIL) and the government over recovery of cost for developing the country's key natural gas field in the Krishna-Godavari (KG) basin.
A bench headed by Chief Justice P Sathasivam before which the matter was mentioned, said that it will take up the case along with PILs filed on the issue of gas pricing in January next year after the winter vacation.
"We can hear the case only in January or February. We would find out about the other matter and both matters would come up for hearing after the holidays," the bench said.
Senior counsel Colin Gonsalves, appearing for CPI MP Gurudas Dasgupta, mentioned the case before the Chief Justice's bench.
Justice S S Nijjar had on November 11 refused to stay the hearing relating to the appointment of a presiding arbitrator for adjudication of the dispute and had asked him to approach Justice Sathasivam whose bench is hearing the PILs on various issues including gas pricing.
On November 11, advocates for Dasgupta and NGO Common Cause had sought stay of the hearing, saying that a bench headed by the CJI was seized of the PILs challenging the Centre's decision to raise the price of natural gas in which they have also questioned the agreement on arbitration.
Justice Nijjar had said both pleas were different and RIL's arbitration petition was not connected with Dasgupta's PIL. RIL had moved the apex court for appointment of an arbitrator from a foreign country with which parties in disputes are not connected after the Centre had declined the proposal.
RIL has nominated former CJI S P Bharucha as its arbitrator while the Centre has chosen ex-CJI V N Khare as its representative.
Senior advocate Harish Salve, appearing for RIL, had opposed the submissions of advocates Gonsalves and Prashant Bhushan, who were arguing on behalf of the MP and the NGO respectively.
Salve had submitted that Dasgupta and the NGO has no locus standi to interfere in the arbitration petition as the matter relates to a contractual issue in which there was an arbitration clause between RIL and the Centre.
Gonsalves had said the arbitration proceeding had to be stayed on the ground of malafide as allegation of malafide had been made against Petroleum and Natural Gas Minister M Veerappa Moily and a notice had been issued to him on the MP's PIL.
"Keep this (arbitration petition) in abeyance till the CJI decides on our application (for stay on arbitration)," he had said. Gonsalves' submission was supported by Bhushan, who had also said the NGO, Common Cause had challenged the agreement between the government and RIL on the arbitration clause.
"The government in collusion with RIL allowed all types of illegality," Bhushan had alleged. RIL had commenced arbitration against the government on November 23, 2011.