Supreme Court Counsel for Centre for Public Interest Litigation alleges the third supplementary chargesheet filed by CBI has gone soft on public servants involved in favouring Loop.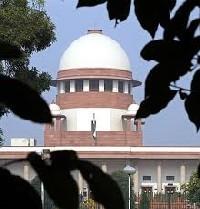 The Supreme Court on Thursday issued notices to DoT, CBI and the Enforcement Directorate on an application alleging laxity in the investigation in the 2G spectrum scam. The court asked them to reply to the allegations before January 20, when the case will be taken up for hearing.

The bench, consisting Justice G S Singhvi and Justice A K Ganguly, is monitoring the progress of the investigation which it had ordered last year on a petition by the Centre for Public Interest Litigation (CPIL).

Contending that CBI was not moving fast in the matter of corruption and misuse of official position by Dyanidhi Maran when he was telecom minister, counsel for CPIL, Prashant Bhushan, said that even after the search of his premises in October last no arrest had been made.

Bhushan alleged several irregularities in the allotment of spectrum. He told the judges that the third supplementary chargesheet filed by CBI has gone soft on public servants involved in favouring Loop Telecom. Though charges of conspiracy and cheating have been slapped on the company, public servants who played a role in the scam
have not been booked under the Prevention of Corruption Act.
This exclusion has been facilitated by the intervention of the two top most CBI functionaries – director of prosecution-CBI and director-CBI, who have apparently overruled the report of the investigating officers, Prashant Bhushan alleged.
He hinted at nepotism to protect public servants. Counsel also asserted that concerned DoT officers had prior knowledge that Loop was controlled by Essar. According to counsel, Law Minister Salman Khurshid interfered in the matter and pointed out that he had publicly giving clean chit to Essar/Loop.
Prashant Bushan also alleged that Shyam Telelink Ltd on its own did not meet the networth requirement for licence. Its own networth was Rs 156.58 crore (Rs 1.56 billion) whereas the requirement was for Rs 1,380 crore (Rs 13.8 billion).
As per the DoT's guidelines for issuing licenses, the networth of "only those promoters/shareholders was to be counted who have at least 10 per cent equity stake or more in the total equity of the applicant company".
For getting all the 21 UAS licences, Sistema's equity in the company was declared in haste to be 10 per cent, so that Sistema's networth is also counted.
However, the fact is that as on the date of application, Sistema did not have any stake in the company, and the equity money was also not transferred, it was alleged.