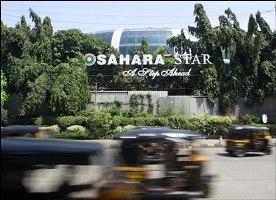 The Supreme Court on Wednesday deferred a verdict on embattled Sahara conglomerate's plea seeking permission to raise more debt on its three overseas hotels, crucial to secure bail for its jailed chief Subrata Roy.
Sahara needs to deposit an initial $1.6 billion to secure bail for Roy, held in a New Delhi jail for more than nine months in a long-running dispute over refunding billions of dollars to investors in outlawed bonds.
The court sought further details from Sahara on the proposed loan after objections from the country's capital markets regulator.
The court will hear the case next on Jan. 9, judges said.
Sahara, which already has a more than $900 million loan from Bank of China on the three hotels, including the Plaza in New York, had sought the court's permission to take over the loan and refinance it from another creditor and raise a fresh loan of $650 million.
Image: Auto-rickshaws move past a Sahara Star hotel in Mumbai. Photograph: Danish Siddiqui/Reuters