Lender to be more active in filing suits against such firms: Chaudhuri

The mounting burden of bad loans has forced State Bank of India (SBI) to change the way it deals with defaulting companies. To ensure promoters of these companies make timely payments, SBI has decided to turn aggressive in filing winding-up petitions against them.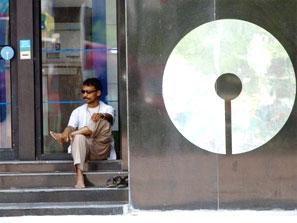 SBI chairman Pratip Chaudhuri said the bank would be more active in filing such suits, one of the ways to ensure improvement in repayment behaviour.

A senior SBI official said compared to other banks, SBI was slow in filing and following up on winding-up cases. He added feedback suggested legal pressure worded in case promoters had resources, but were avoiding timely payments.

In 2001-12 and 2012-13, the level of SBI's impaired assets showed an upward bias, a reflection of the state of the economy. The bank also recorded unprecedented delinquencies. The deterioration was the most severe in sectors such as paper & plastics, iron & steel, textiles, engineering goods and transport.

As of March-end, the bank's gross non-performing assets (NPAs) stood at 4.75 per cent, while net NPAs stood at 2.1 per cent.

The bank also has a large portfolio of restructured loans, for which risks of slippages are much higher than that in the case of standard loans.

In March, total restructured assets stood at Rs 43,111 crore (Rs 431.11 billion). Of this, Rs 32,228 crore (Rs 322.28 billion) was in the standard category, while Rs 10,883 crore (Rs 108.83 billion) was in the NPA segment.

As of March-end, provisioning for NPAs stood at Rs 11,368 crore (Rs 113.68 billion). The bank's provision coverage ratio, or the sum set aside to cover bad loans, stood at 66.58 per cent.

SBI's gross NPAs declined from Rs 53,458 crore (5.3 per cent) in the quarter ended December to Rs 51,189 crore (4.75 per cent) in the quarter ended March. In 2012-13, Rs 10,119 crore (Rs 101.19 billion) was upgraded from NPAs to standard assets, while cash recovery in NPA accounts stood at Rs 4,766 crore (Rs 47.66 billion). Recovery for written-off accounts stood at Rs 1,066 crore (Rs 10.66 billion).