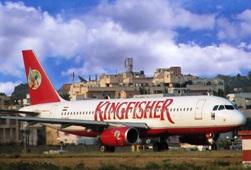 The lead banker to Kingfisher Airlines, State Bank of India said on Monday it is taking all steps to recover the loan provided to the grounded carrier.

"We are blazing all guns and taking all steps to recovery (of Kingfisher loans)," SBI Chairman Pratip Chaudhuri said in Mumbai after the meeting of the Finance Minister with the heads of PSU banks and financial institutions.

"There is a core group. They are assessing what are securities what can be disposed of quickly then they are put on auction. . . That is how it goes," he said.

Earlier in the day, Finance Minister P Chidambaram asked the banks to take firm steps to recover loans saying that the country cannot afford to have 'affluent promoters and sick companies'.

"We cannot have an affluent promoter and a sick company. Promoters must bring in money. . .," Chidambaram had said.

The consortium of 17 banks, led by SBI, has an outstanding of over Rs 7,000 crore (Rs 70 billion) from the carrier but has shares of listed entities like United Spirits as collaterals which should realise Rs 500 crore (Rs 5 billion).

That
apart, they have the brand Kingfisher as a security.
Additionally, the consortium has a residual right over the securities held by Srei Infrastructure Finance, which comes to Rs 500 crore (Rs 5 billion).
Srei bought this from ICICI Bank in April last year.
SBI has the maximum exposure, over Rs 1,600 crore (Rs 16 billion), in the Vijay Mallya-led airline, followed by PNB (with Rs 800 crore or Rs 8 billion), IDBI at Rs 800 crore or Rs 8 billion, Bank of India at Rs 650 crore (Rs 6.5 billion) and Bank of Baroda has Rs 550 crore (Rs 5.5 billion).
On Finance Minister's direction on bad loans recovery, Chaudhuri said: "We are taking all steps to recover our NPAs and make the situation better.
"Wherever they can't pay full amount at least part recovery is made so that these are upgraded and the accounts on CDR that process are being expedited."