Shares of State Bank of India plunged sharply by over 8 per cent on Wednesday, on concerns about its exposure to Kingfisher Airlines and reports about public sector lender giving fresh loans to the debt-ridden carrier.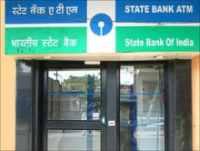 Shares of Kingfisher also plunged by over six per cent on continuing financial and operational troubles at the company.

Heavy selling was witnessed in SBI shares, pulling it by 8.55 per cent to an intra-day low of Rs 2,242 at the BSE. After paring some of the losses, the stock settled 7.91 per cent lower at Rs 2,257.80.

SBI was also a major contributed to the 283-point plunge in the barometer index Sensex on Wednesday. At the NSE, the stock closed 8.13 per cent down at Rs 2,252.95.

"Sentiments turned adverse for the SBI counter on reports that the bank has committed close to Rs 1,200 crore (Rs 12 billion) to the problem stricken
Kingfisher airlines," Shanu Goel Research Analyst Bonanza Portfolio said.
Already, SBI has a significant exposure to Kingfisher and is among the biggest lenders to the cash-strapped airline.
Share of two other lenders IDBI Bank and PNB, which have significant exposure in the ailing carrier, also plunged by 6.92 per cent and 4.62 per cent, respectively.
Shares of Kingfisher Airlines also dropped after trading higher for most part of the session. The scrip closed the day 6.53 per cent lower at Rs 25.05.
A consortium of lenders is believed to be considering fund support to the beleaguered carrier, but a final decision has remained elusive so far.
The airline's services remained affected for the sixth day today as it cancelled about 20 flights. Kingfisher, which suffered a loss of Rs 1,027 crore (Rs 10.27 billion) in 2010-11 and has a debt of Rs 7,057.08 crore (Rs 70.57 billion), posted a Rs 444 crore (Rs 4.44 billion) loss in third quarter this fiscal.