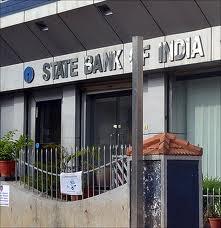 State Bank of India managed to stem rise in bad loans in its fiscal third quarter, sending its shares up as much as 6.8%.
The 208-year old lender, which accounts for about a quarter of loans and deposits in the country, said gross bad loans as a percentage of total loans were 4.9% for the three months to December 31, compared with 4.89% a quarter earlier.
Net NPA also came in at 2.8% compared to 2.73% q-o-q. Analysts had expected the number to be higher.
SBI's net profit for the quarter rose 30.3% to Rs 2,910 crore ($468.4 million), from Rs 2,234 crore a year earlier on the back of rise in net interest income, fees, and control on employee costs.
Analysts on average had expected a net profit of Rs 3,274 crore.
The bank's total income rose to Rs 43,784 crore in the October-December quarter as against Rs 39,068 crore during the corresponding quarter of the previous fiscal.
Its net interest income rose 9% to Rs 13,777 crore from Rs 12,640 crore during corresponding period.
Provisions for bad loans during the third quarter of current fiscal increased 26% to Rs 5,235 crore from Rs 4,150 crore in the year-ago period.
Indian lenders have seen a spike in their bad loans in the past two fiscal years, which has been mainly attributed to a slowdown in the economy and also in some cases to a lack of due diligence.
While economic growth is forecast to pick up this year and next, bad loans will start easing with a lag, bankers say.
SBI Chairwoman Arundhati Bhattacharya has vowed to tackle the increase in bad loans by boosting vigilance and upgrading systems and software. More than two-dozen state-owned lenders, including SBI, account for over 70% of the nation's loans, and the bulk of the bad loans.
By comparison, most state-run banks have seen their bad loan ratio widening in the December quarter as restructured loans turned sour. Sectors such as infrastructure, metals and mining have shown stress.
SBI is planning to raise as much as Rs 15,000 crore ($2.4 billion) through a share sale to boost its capital base as Indian lenders gear up for higher capital requirement through March 2019 to comply with global norms. The bank had raised Rs 8,030 crore last year by selling shares to funds.
Showing benefit from cutting interest rates on deposits, its net interest income rose by 9.2% to Rs 13,777 crore from Rs 12,617 crore. The average cost of deposits declined to 6.25% from 6.32% a year ago.
The average yield on advances improved to 10.57% in December 2014 from 10.4% in December 2013, SBI said in a statement.
Despite slow pick up in credit, it's the non-interest income, comprising fees, commission, rose by 24.3% to Rs 5,237 crore, SBI said.
However, its credit costs – provisions for bad loans -- rose sharply by 51.67% to Rs 4,717 crore in Q3 of Fy15 from Rs 3,429 crore in same quarter of Fy14.
Consequently its provision coverage ratio improved to 63.56% in Q4 from 58.32% in Q3 of Fy14.
Consolidating on stable asset quality performance, its non-performing asset ratio declined to 4.90% in December 2014 from 5.73% in December 2013.
In absolute terms also gross NPAs were down to Rs 61,991 crore from Rs 67,799 crore a year ago.
The net NPA ratio also was down to 2.80% from 3.24%.
Its loan book expanded by 7.28% to Rs 12,32,544 crore. While deposits grew by 11.8% to Rs 15,10,076 crore.
Its staff expenses were down 0.43% from Rs 5,867 crore from Rs 5,842 crore.
The capital adequacy ratio (CAR) under Basel III norms stood at 12.03%.
Shares in SBI, valued at about $35 billion, were trading 6% higher at 1:23 pm on the BSE. They were on course to post their biggest one-day gain since May last year.