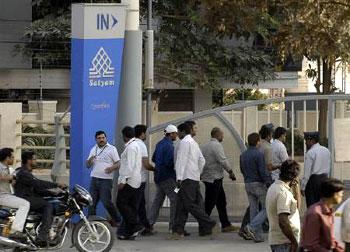 Following is the chronology of events in the erstwhile Satyam Computer Services Ltd (SCSL) multi-crore accounting fraud case, which came to light in 2009.
January 7, 2009: B Ramalinga Raju, founder and chairman of SCSL, confesses to fudging of accounts to the extent of about Rs 7,000-crore (Rs 70 billion) in a letter to the board.
January 9: Raju and his brother B Rama Raju (managing director of erstwhile Satyam Computers) were arrested by the Andhra Pradesh police on charges of forgery and cheating; Central Govt supersedes Satyam's Board.
January 10: The Company Law Board (CLB) bars the Satyam board from functioning; govt nominates Deepak Parekh, Kiran Karnik and C Achuthan to the Board.
January 13: Govt orders Serious Fraud Investigation Office (SFIO) to probe the scandal.
February 2: Mahindra & Mahindra (M&M) expresses interest in acquiring Satyam.
February 5: Govt-appointed board names A S Murthy as the new chief executive.
February 11: The new board meets to select prospective bidders for 51 per cent stake in Satyam.
February 17: Satyam case handed over to CBI.
February 18: Govt asks Company Law Board to supersede the boards of Maytas Infra and Maytas Properties.
March 6: The Securities and Exchange Board of India (SEBI) gives approval to sell 51 per cent in Satyam.
April 4: CBI files its first charge sheet.
April 13: Tech Mahindra, through its subsidiary Venturebay Consultants, acquires Satyam.
November 22: CBI files its second charge sheet.
January 7, 2010: CBI files the third charge sheet.Feb 2011-Apr 2012: Mahindra Satyam pays $125 million and $68 million to settle US law suits and Aberdeen UK claim, respectively.
October 25, 2011: Trial court frames charges in the case.
November 2: Trial begins.
November 4: Ramalinga Raju, along with two other accused, gets bail from the Supreme Court as CBI fails to file the charge sheet even after more than 33 months of Raju being arrested.
June 25, 2013: Mahindra Satyam merged with Tech Mahindra, creating a new entity with revenues of $2.7 billion.
January 9, 2014: Ramalinga Raju's wife Nandi Raju and sons Teja Raju and Rama Raju were among 21 relatives of the ex-Satyam boss who were convicted by the Economic Offences Court for default in payment of Income Tax.
December 8: Ramalinga Raju and others convicted by a Economic Offences Court in connection with complaints filed by SFIO.
April 9, 2015: Ramalinga Raju and nine others sentenced to seven years' rigorous imprisonment in connection with the case probed by CBI.