Satyam founder B Ramalinga Raju and his brother B Rama Raju have approached the Supreme Court seeking bail in multi-crore accounting fraud involving the software firm.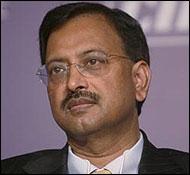 The brothers moved the apex court which had on October 12 granted bail to five other accused in the case.

Former chief financial officer Vadlamani Srinivas has also filed a bail plea in the court.

Four former employees of the IT major and a former auditor of PriceWaterhouseCoopers (PWC) were granted bail by the Supreme Court on a personal bond of Rs 2 lakh and surety of like amount.

The former Satyam employees, who were granted bail, are its former Internal Chief Auditor V S Prabhakar Gupta besides executives G Ramakrishna, D Venkatpathi Raju and Ch Srisailam.

The fifth accused, who got the bail, is PWC's former auditor
Subramani Gopalakrishnan.
The five had approached the apex court challenging the August 30 order of Andhra Pradesh High Court which had rejected their bail pleas.
Of the total ten accused in the case, Satyam's founder B Ramalinga Raju's younger brother B Suryanarayana Raju and former PWC auditor T Srinivas had already been granted bail by different courts earlier.
For his alleged role in the accounting fraud, Satyam Computer's founder and its former chairman Ramalinga Raju had been arrested first in January 2009 but his bail was cancelled in October last year by the Supreme Court.
While cancelling his bail, the apex court had stipulated that the accused would file another bail application only after July 31, 2011, if the trial in the case is not completed in the local court.
Following cancellation of his bail on CBI's plea, Raju had surrendered on November 10 last year before a Hyderabad court.