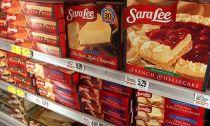 India's FMCG firm Godrej Consumer Products Ltd on Thursday said it will buy out US-based Sara Lee's 51 stake from their joint venture for 185 million euros (about Rs 1,065 crore).
The 15-year-old joint venture Godrej Sara Lee primarily markets insecticides, including leading mosquito repellent brand Good Knight, Hit, air freshner Ambi Pur and shoe polish Kiwi in India.
"This acquisition catapults Godrej Consumer Products Ltd to becoming one of the strongest performers in the home and personal care space in India. It further strengthens our commitment to India being one of the key drivers of our revenue and profits," GCPL chairman Adi Godrej said in a statement.
Sara Lee said the transaction, which is subject to customary closing conditions, is expected to close before the end of its fiscal year on July 3, 2010.
"Having partnered with Godrej for 15 years, we are confident that their great team will build on the success we have shared to date and ensure that these leading brands will continue to thrive," Sara Lee chairman and CEO Brenda Barnes said in a separate statement.
Post the acquisition of Sara Lee's stake, GCPL claimed it would become the second largest household insecticide player in Asia, excluding Japan.
"Along with the Megasari acquisition in Indonesia, this purchase makes GCPL the second largest household insecticide player in Asia (outside Japan)," Godrej Sara Lee managing director A Mahendran said.
In April GCPL, which makes popular soap brand Cinthol, had acquired Indonesia's household insecticide firm Megasari and Nigeria's personal care brand Tura in March for undisclosed sums.
Godrej said the latest acquisition represents an important step towards GCPL becoming a leading emerging markets multinational with presence in three continents -- Asia, Africa and Latin America -- in three core categories of home care, personal wash and hair care.
GCPL had said it would raise Rs 3,000 crore (Rs 30 billion) to fund its various acquisitions in overseas markets. Shares of GCPL were trading at Rs 325.10, up 9.09 per cent from the previous close in afternoon trade at the Bombay Stock Exchange.
For Sara Lee, the exit from the Indian JV is part of its strategy to focus on its core food and beverage businesses.
Under this strategy, the company is selling off its
international household and body care businesses.
In fiscal 2009, the Godrej Sara Lee joint venture generated annual sales of approximately $158 million and accounted for about 9 per cent of the adjusted operating segment income for Sara Lee's international household and body care business.
"The sale of our stake in the Godrej Sara Lee joint venture, combined with the previously announced binding offers with P&G and Unilever, underscore the significant value of our household and body care portfolio," Barnes said.
As part of Sara Lee's divestiture plan for its household and body care business, it has received binding offers from Unilever for its body care business for 1.27 billion euros ($1.61 billion) and from P&G for its air care business for 320 million euros ($404.8 million).
In total, household & body care transactions to date are expected to generate pretax sales proceeds of approximately 1.78 billion euros ($2.3 billion).
The company also continues to receive strong interest in the rest of the business, which includes shoe care, non-Indian insecticides and certain non-European cleaning brands, Barnes said.
In February 2010, Sara Lee announced a revised capital plan that focuses on share repurchase, dividend pay-out and the funded status of the company's pension plans.
The company plans to buy back $2.5 billion to $3 billion of shares over a three-year period, with approximately $1.0 billion to $1.3 billion of the shares anticipated to be repurchased in 2010.
"The company continues to evaluate the best opportunities for value creation and investment of cash, including potential acquisitions or other investments in the company's growth," Barnes added.
Sara Lee's portfolio comprises brands like Ambi Pur, Hillshire Farm, Kiwi and Senseo.